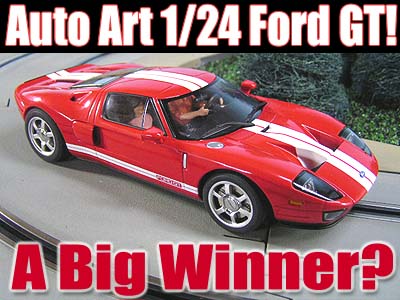 Auto Art is not a large player in our hobby, but they have managed to create some very interesting models over the past few years. Known for their attention to overall scale accuracy along with excellent fit and finish, many enthusiasts have slowly taken notice. This intensified when they decided to delve into 1/24th scale and bring enthusiasts of this larger scale even more options. This latest 1/24 Ford GT simply caught my eye by it's looks alone and I couldn't wait to get my hands on one.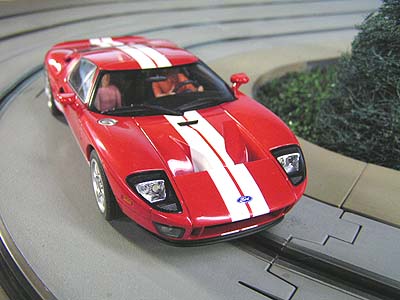 Auto Art can create a very beautiful and accurate model when they want to. In my eyes they have done another excellent job with this offering. I compared this model to several prototype photos and I cannot see any real issues in accuracy or overall finish. I noticed that the front racing stripes did not tuck over all the way to the grill, but again this is very minor. I feel they have captured this hot rod wonderfully in 1/24th scale and most of you should feel the same way.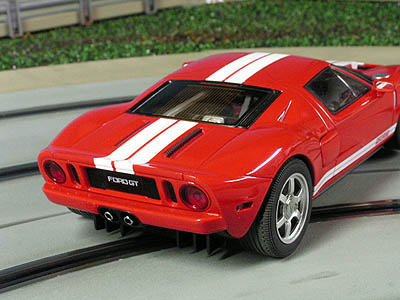 Perhaps it is the car itself that has my attention the most. Not everyone will agree, but I have always thought this model, and its classic predecessors, were some of the most elegant cars ever designed. The fit and finish of this car is outstanding and very pleasing to my eye. There was no sign of runs or fading in the clear coat nor on the striking white racing stripes. These stripes are in fact very crisp and opaque with no bleed through I could detect.
There are only small touches of detail but for what is there, it is done well. The rear window de-fogger and screen mesh in the front and rear give it a nice overall effect. The interior has a driver and passenger with the console highlighted in silver. This added detail of the full interior really draws you in for a closer look.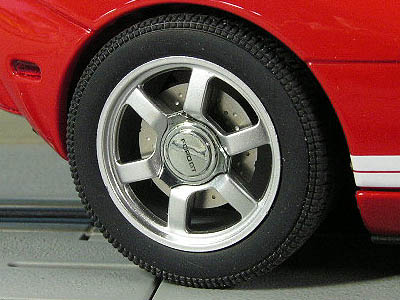 Wheels and tires were also very impressive. The softer compound of the tires gives great traction and all my wheels were very concentric and true. I did notice that the front tires were not seated all the way on the wheel, but this was a quick fix by just working them around with my hands. The wheel detail is also very well done complete with correct size brake rotors. I was beginning to have really high hopes for this model.
Out Of The Box
After a quick braid adjustment it was time for testing. One of the first things you will notice when you place this car on the track is the massive amounts of magnetic downforce. With my power supply set at 12 volts and using a PARMA 45 ohm Econo controller, it was time for the first laps.
The strong magnets here create a great deal of drag. The car was sluggish in acceleration so I decided to change to a 25 OHM resistor in my controller. This did help matters and I was enjoying some great laps. In fact this beast posted and average of 3.9 seconds on our Artin road course. This is pretty impressive for a car this large. I could tell though that braking was sort of light, even with all this magnetic drag. However, this is not a 1/32 model and I can't expect it to drive like one. I had to give this car a thumbs up as it functioned as intended out of the box.
Rolling It Over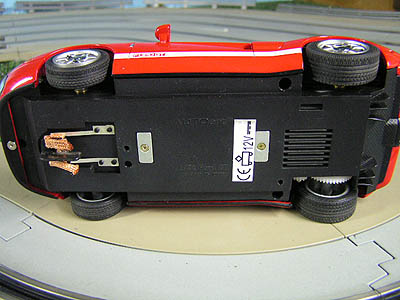 Looking underneath we see the 2 new magnets they have installed. I like the fact that it takes only one screw to remove them. this makes tuning the car very fast and easy. We also see that the motor is now in the sidewinder position. 3 screws mount the body to the chassis and removal was clean and easy. Be careful when removing the body as the wiring harness for the full lighting system is there, complete with a quick disconnect plug.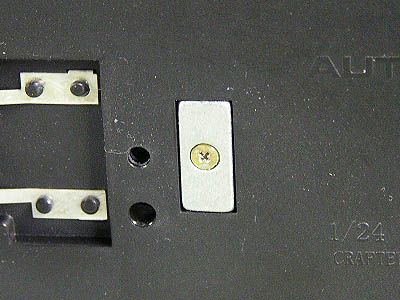 The motor is perhaps one of the most important parts of this model. It is a 12 volt motor which means you do not need a special power supply to run it. However it was the gearing here that I was suspect of. The motor is equipped with a 14 tooth pinion that drives a 44 tooth spur gear. This ratio (3.143) is not that bad, but it could contribute to the lack of braking crispness. However, when I turned the rear wheels the motor almost seems like it isn't there at all. The light magnets used inside this motor might also be part of the problem.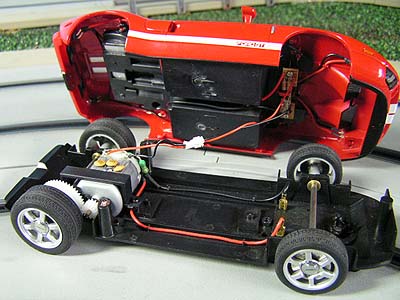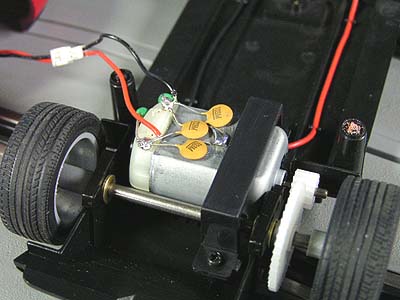 2 other items caught my attention. The first was a plastic strap that is designed to hold the motor in place. Although it looks good, it really isn't doing much as there is a slight gap between the top of the motor and the strap.
Still, I can appreciate the effort. It was these strange clips over the rear axle bushings that really interested me. These are designed to snap in place using a twisting method and hold the bushings snugly in the chassis and also make sure they will not pop out. Very interesting indeed.
More Testing
It was back to the track for more fun. This time I decided to lighten the load a little in the magnet department. I removed the rear magnet and hit the track. Now here is where things got downright fun! This car drifted wonderfully through the corners and the lightened drag made acceleration right where I liked it. The braking was still very light, but at this point I didn't care. I was having too much fun with this overgrown hot rod. Lap times went to a 4.2 average...but as I like to say top speed does not always mean the most fun.
Removing both magnets created a car that was very quick, but with virtually no signs of braking. I know they can be tuned to get them right, so advanced enthusiasts will just have to adjust and modify this car to suit their needs. That is half the fun for most of us so I cannot really be negative here on behalf of Auto Art. The car was delivered with the magnets, and with them installed the car is just fine.
Final Thoughts
The only thing missing here is more of them. Auto Art could really impact the 1/24 scale hobby if they decided to go to the next step. First they need to start bringing more RACE cars to the action, not just street versions or Supercars. A vast majority of their releases are street cars, especially in 1/32nd scale. I like street cars, but they would do so much better if they decided to go the extra mile and placed some "numbers on the doors" so to speak. They have delivered some rally versions but it will take more than one or two rally cars to make an impact. To be fair, it seems they are quite content on being a diecast company first. That is fine with me as I will simply enjoy what models they do decide to offer. This reviewer just feels they could be so much more for this hobby, and in both scales.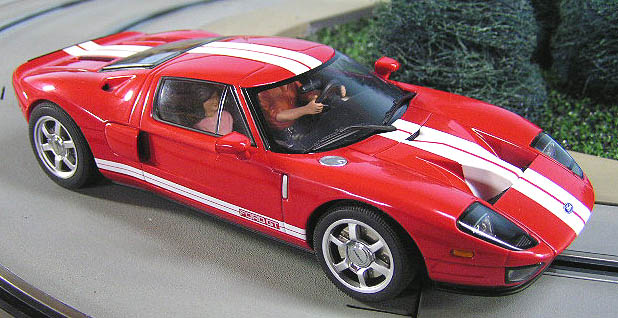 If you have not tried a larger scale model yet, now just might be the time. I think most any enthusiast out their will have fun with this model and that makes it a winner. It has potential to be tuned to your liking and can be a great diversion from your current racing series.
- Harry Wise, Home Racing World
As always feel free to contact me about this article or just the hobby in general at harry@homeracingworld.com, or better yet drop into our Message Forum and share your thoughts with other enthusiasts!
Thanks Go To SlotCarWorld For Providing Us With This Model!
-------------
And thanks to Harry of Home Racing World for allowing reuse of this review.
DaveK
Publisher, Slot Car News