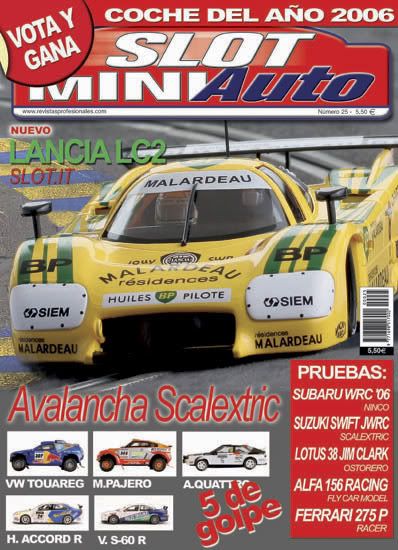 MINIAUTO SLOT #25 NOVEMBER
MiniAuto Slot cover of November, gives protagonism to the new SLOT.IT Lancia LC2 track test. Emphasizes the avalanche of the new SCX models for this year end with the appearance of the new Off Road, Pajero and Touareg, a classic Rally Car, Audi Quattro, and both touring R, Honda Accord and the Volvo S60. In the interior pages, it is possible to read the track tests of the new Ninco's Subaru WRC, SCX Suzuki Swift JWRC, Ostorero's Jim Clark Lotus 38, the new Fly Racing Alfa Romeo 156, and the Racer's Ferrari 275P.
MiniAuto Slot also announces the 2006 Car of the Year Contest.