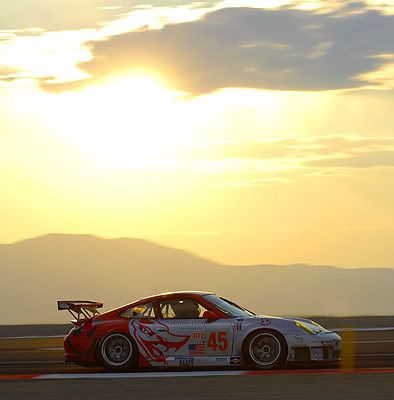 May 16, 2007 -- Tooele, Utah -- Coming off of a short break between races, the Flying Lizard Motorsports squad is readying for this weekend's Utah Grand Prix at Miller Motorsports Park. This will be the second year that the American Le Mans Series has raced at the new, 4.5 mile, 24-turn road course just outside of Salt Lake City.
In the team's No. 45 Porsche, Johannes van Overbeek and Joerg Bergmeister will continue the battle for the ALMS GT2 drivers' championship title. The two are currently second behind the Risi No. 62 Ferrari's Salo and Melo. Seth Neiman and Lonnie Pechnik will team up for this race in the team's No. 44 Porsche.
Bergmeister, who tested here earlier in the week with the team, commented, "Miller is a very technical track with lots of different types of turns so it's fun to drive. My favorite part is Turns 1 through 4: they are really quick, which I like. On setup, we have a lot to learn here; it's the first time this year we've been on a smooth permanent road course with the new 997. At a track like this where there's a combination of long straights and varied turns, getting a good balance aerodynamically in setup will be critical. In other words, if you take too much downforce out of the car for speed on the straight, you'll sacrifice your speed in the corners."
van Overbeek is looking forward to being back on a permanent road course. "We've had so many street races this year: one long race at Sebring, and then three street circuits in a row. This weekend will be the first time since Sebring that we've run on a road course track. The Porsche performed well here in our test over the weekend. Hopefully we'lll be quick enough to keep the pressure on the Ferraris. They were fast here last year and we expect it again this year."
Crew chief Tommy Sadler added, "This year's race is in May, rather than in July like last year. That will make a big difference in the experience overall. Cooler temperatures will be easier on the drivers and the car and tires. This is an important race -- after this, we reach the halfway point of the ALMS season. We have to work as hard as we can to make up ground on the championship."
The 2 hour and 45 minute race will begin at 5:05 p.m. Mountain Time, Saturday, May 19, 2007 and will be televised on CBS Sports tape delayed on Sunday May 20 from 1 to 3 pm Eastern Time. In Europe, MotorsTV will broadcast the race on Sunday May 20 from 18:30 - 21:30 in the UK and 19:30-22:30 (CET -Paris). Flying Lizard will broadcast their radio communications live during the race. For more info, see
www.lizardms.com
.
News and photo used with permission of Flying Lizard Motorsports.