Vodafone McLaren Mercedes driver Lewis Hamilton finished the Spanish Grand Prix in Barcelona in second position. It was his third consecutive second place. Today's result means that he takes the lead in the Drivers' Championship with 30 points. After 65 laps, Lewis came home 6.7 seconds behind winner Felipe Massa. Fernando Alonso ended up third following an incident at the first corner and is second in the Drivers' Championship with 28 points. Lewis and Fernando were both on two stop strategies. Lewis came in on laps 22 (8.5 seconds) and 47 (6.7 seconds). Fernando made his pit stops on laps 19 (9.7 seconds) and 48 (6.7 seconds). After four out of 17 races, Vodafone McLaren Mercedes is the only team to score points in every race of the season with both drivers. The team leads the Constructors' rankings with 58 points ahead of Ferrari on 49 points.
LEWIS HAMILTON
"Things just keep getting better and I continue living my dream. In the early stages I was struggling to get heat into the tyres and had a bit of oversteer, but things improved considerably a few laps into the race - however the gap to Felipe was already too big. In the second stint I was a bit unlucky with the traffic, but that happens sometimes. Overall I'm happy with the outcome of the race, and I want to keep on scoring points. The team has worked really hard since Bahrain and whilst we didn't win I still think we can take some satisfaction as we are leading both Championships."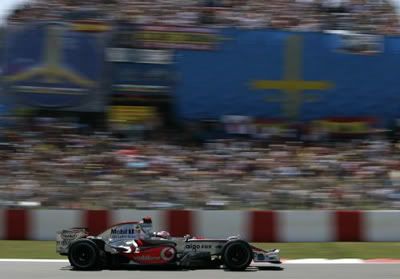 FERNANDO ALONSO
"My chance for victory disappeared after the incident at the first corner. I got off the line OK at the start and was able to get a tow from Felipe and challenge into the first corner as I was already half a car length in front however we touched, and I had to go on the gravel to avoid an accident. We were both lucky to finish the race. As a result by the second corner I was fourth. I also sustained a bit of damage to my car which upset the balance for the rest of the race. I lost additional time in the second stint as the tyres were not working as well, but I still think the result would have stayed the same even if we had used the softer tyres."
Also of note...
Takuma Sato and the Super Aguri F1 Team celebrate their first point. Formula One World Championship, Rd 4, Spanish Grand Prix, Race, Barcelona, Spain, Sunday 13 May 2007.
CATALA-STROPHE
Panasonic Toyota Racing will leave Barcelona licking its wounds after a desperately disappointing Spanish Grand Prix at the Circuit de Catalunya. The race took place in perfect conditions with track temperatures around 50° Celsius as it has been all weekend. Jarno Trulli's fine qualifying performance yesterday earned him 6th place on the grid. Unfortunately he suffered a fuel pressure problem as the drivers lined up for the first start and he was forced to take the restart from the pit lane. He lasted only eight laps before the problem became terminal. Ralf Schumacher's day also began in the worst way when he was hit from behind by Alexander Wurz's Williams on lap 1. After a pit stop to check for damage he rejoined over a minute down. He then raced hard despite missing top speed with a damaged rear wing. Unfortunately he retired 20 laps from home when the nose cone worked loose. Toyota is scheduled to test this week at the Paul Ricard circuit in France in preparation for the Monaco Grand Prix on May 27. The team will head to the principality looking for a turnaround in its fortunes.
Ralf Schumacher (Car 11, Chassis TF107/05)
Race Classification DNF Tyres Used: Soft Soft
Qualifying Classification 17th Time: 1m 22.666s (+1.546s in Q1) Grid: 17th
"That was another difficult weekend for me. The start itself was okay and I made up a couple of places. It was a bit messy but from where I was on the grid that is to be expected. There was a bit of chaos at turn 10 when I was hit from behind but that's the way it goes sometimes. I had to pit to check for damage but we were able to continue. From there the race was quite good and at least we were able to keep up a strong pace. Unfortunately the nose then worked loose and I had to retire. Our car has improved but we were far away from where we should have been today so we will have to keep working hard."
Jarno Trulli (Car 12, Chassis TF107/04)
Race Classification DNF Tyres Used: Soft
Qualifying Classification 6th Time: 1m 22.324s (+0.903s in Q3) Grid: 6th
"This was one of those days. Unfortunately at the end of the parade lap while I was heading to the grid to take the start, the engine cut out due to a problem with the fuel pressure. That meant we had to take the restart from the pit lane. We managed to get the engine going again using higher revs and then we were able to put in a few laps that looked pretty good. But in the end the problem was too severe to continue further and we had to retire. This is the kind of thing that can happen in motor racing but it was a pity because we qualified well and we were in a good position to fight today. We have made a step forward this weekend but this is the first time we have missed the points this year. Now we have to keep pushing hard to improve both our performance and our reliability."
-------------
McLaren news used with permission from McLaren.com/Toyota news used with permission from Toyota/SuperAguri news used with permission SuperAguri, no reuse of any of the photos without permission from those entities.
formula-1