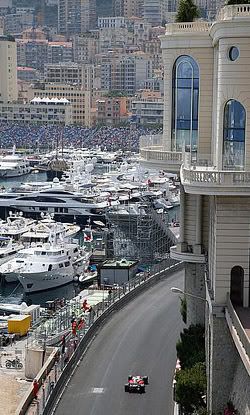 The most prestigious race of the season is just around the corner. The Monaco Grand Prix is a law unto itself: speeds topping 280 km/h are permitted in the town centre, a city circuit that throws up the ultimate challenge in terms of precision driving. Sheer engine power alone doesn't get you very far here, but aerodynamic downforce is of the essence. Passing manoeuvres are a thing of rarity, so a good starting slot on the grid is invaluable. Friday is traditionally free of F1 engine noise as numerous spectators arrive in their yachts, turning the harbour into one of the flashiest marine parking lots in the world - and an almost seamless pedestrian walkway. For some the Monaco Grand Prix spells fun and entertainment, for others it's a matter of high-performance sport and high-tech.
Lewis Hamilton
"I am really looking forward to Monaco. It is one of the tracks I have always dreamed of racing at in Formula 1, particularly having competed there for the past two seasons in the F3 Euroseries and GP2. For me it is the best circuit of the year, there is nowhere like it for getting the adrenaline going, because the track is so tight and there are no run-off areas, you have to be incredibly precise, there is no room for error and as a driver that makes it all the more exciting. I have always run well at Monaco, having won there on my previous two visits to the race. I am going to the race again this year with the intention of fighting for the win, but that is the case at everything I compete in. However we do have to keep being realistic, this will be my fifth race in Formula 1 and I am still developing. We have to focus on keeping scoring points for both the Constructors' and Drivers' Championships and take it step by step."
Fernando Alonso
"Monaco is another of those races that, at the start of the year, you mark as one that you really want to win. I took the victory at the Grand Prix last year, and although it was an emotional weekend, it was an amazing feeling, one that I will race hard to try and repeat again this season with Vodafone McLaren Mercedes. I have not had the results I have wanted at the previous two races, however I have kept scoring good points and we have continued to develop the performance of the car. At Monaco you have to really keep your concentration at all times and push to the limit. It is very easy for things to go wrong at this track because it is very narrow and the barriers are very close, and this is why you have to stay focused. Because of the barriers and the need to be very accurate, you do have to use a slightly different driving style here to perform well over the weekend. You tend to be less aggressive in the braking zones. You also need to set the car up with a responsive front, so that you can be on the throttle as early as possible in the middle section of the corner without waiting for the car to turn, it is ways like this that you can find the milliseconds that you need at Monaco."
The BMW Sauber F1 Team with its drivers Nick Heidfeld and Robert Kubica heads for the Principality with the aim of further bolstering its third place in the constructors' standings.
Nick Heidfeld:
"I'm looking forward to Monaco. Everything about this race is just spectacular: the backdrop with all those yachts, the stars and starlets, the parties, and unfortunately the prices as well. And, of course, the circuit itself. You can't really put into words what it's like to drive a F1 race car through the built-up streets. The ratio of narrowness to speed simply defies description, and it's something I really enjoy. Two years ago I came second in Monaco. Last year we had a fault during qualifying, which meant I started from 16th, but still managed to pick up two championship points by finishing seventh. It goes to show that the key thing in Monaco is not to make any mistakes.
"The Monaco GP is a highlight not just for us drivers, but for the spectators as well. Nowhere else can you get so close to the circuit. At modern race tracks the fans are miles away from the action. Also, the sound of the engines downtown is out of this world. I lived in Monaco for a few years and had a lot of fun there. I was looking for a quieter long-term environment for my private life, but I love coming back to Monte Carlo year after year."
Robert Kubica:
"From a driver's point of view the Monaco Grand Prix is something really special in the Formula One calendar. There's very little room for error and you're driving at the limit virtually the whole time. You can't afford to slip up on these narrow streets. I've raced in Monte Carlo in the World Series by Renault, but this year it will be an experience for me to appear there for the first time in a Formula One race. In 2006 I drove on Friday at the GP, but not very much because of technical problems.
"For the first time since the start of the season in Melbourne, high downforce is required again, and that's another reason why I'm looking forward to Monaco. It's going to be a real challenge and I can't wait to see how well we do. In the past I've always managed all right on city circuits."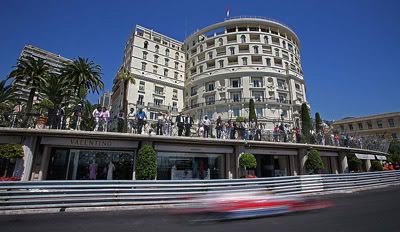 RUBENS BARRICHELLO
"Like most drivers, Monaco is one of my favourite races and I have some fantastic memories as I have finished on the podium four times there. Monaco is unique in many ways and it certainly has a special place in F1 history. I particularly enjoy qualifying at Monaco, it's one of the biggest challenges of the year and so important to get right. Overtaking is very difficult so you have to qualify well and get a good grid position. Strategy is also crucial in Monaco as the pit-stops can help you gain track position."
JENSON BUTTON ON THE MONACO GRAND PRIX
Monaco resident Jenson on what makes Monaco so special and what you need to have a good race around the street circuit.
"Monaco is the most famous race of all, where all the glitz and glamour of Formula One is on display, and there is no question that it is a very special place over the race weekend. It's a very different race from any other on the calendar with so much history and it means even more to me as I live in Monaco, so it is one of my home races. Yet ironically the qualities which make it so appealing also make it a frustrating weekend for the teams and drivers. It's unbelievably busy and getting around can be just impossible! When I'm not in the paddock, I'll be getting out of the Principality and up into the hills behind the action to relax and give myself some space.
"The circuit itself is very tight and twisty and you can really feel the speed of the car when the barriers are so close to you. The whole lap is one non-stop challenge and you just have to get your head down and keep focused. You have to keep the car out of the barriers but not worry too much about getting a few scrapes during the race. The absolute key to a really quick lap is being uninhibited and not letting the barriers intimidate you. This is a circuit that rewards precision like no other.
"Qualifying is crucial for getting the best grid position possible and then you have to make a good start in the race and do your overtaking there otherwise passing is almost impossible. You also need the right pit-stop strategy which can make all the difference to the outcome of your race. Good mechanical grip from the car is a fundamental requirement, coupled with as much downforce as possible."
"And finally it's a fantastic race for the fans and one of the only opportunities for them to get so close to the action and the noise of F1."

Panasonic Toyota Racing heads to the most glamorous weekend of the season determined to return to points-scoring form in the Monaco Grand Prix after its disappointing weekend in Spain. The team's 100% reliability record in 2007 ended with retirement for Ralf Schumacher and Jarno Trulli in Barcelona but some encouragement came from with Jarno's impressive qualifying display. The tight Principality streets are a unique challenge on the Formula 1 calendar and Toyota will use a Monaco-specific aerodynamic package this weekend, including revised front and rear wings. Monaco holds happy memories for both our drivers, with Ralf claiming pole position in 2003 and Jarno taking pole position and his maiden victory a year later. The team expects a return to form at Monaco and hopes to add to its tally of five points so far in 2007.
Ralf Schumacher (Car 11): "Spain was a disappointing weekend for me so obviously I am going to Monaco looking for a big improvement. Our car has improved, even if that was not clear from my results in qualifying or the race, but we still have work to do and we will be pushing hard for a better result in Monaco. It is always a great challenge to race at Monaco with the narrow streets and barriers so close. It's a tough race physically and mentally because you cannot afford even the smallest mistake. Overtaking is nearly impossible so qualifying will be very important. I have good memories of taking pole position in Monaco in the past so our first goal will be to qualify as high as possible to give me the best chance of a strong result. My aim for the weekend has to be to score points again and I am optimistic we have a good chance."
Jarno Trulli (Car 12): "I am really looking forward to Monaco because it is one of the best race weekends of the year and I have always performed well there. Of course, my victory from pole position in Monaco in 2004 is one of my happiest memories in Formula 1 but I have had many other good performances there as well. I am optimistic we can score a strong result this weekend and put what happened in Spain behind us. It was such a pity about the technical problem in Barcelona because I am certain I could have had a really good result. We were strong in qualifying and it was particularly encouraging to see we had the same fuel strategy as the leading cars, so performance-wise we have made a step forward. If we can get back to the reliability we showed at the start of the season, Monaco should be a positive weekend for us."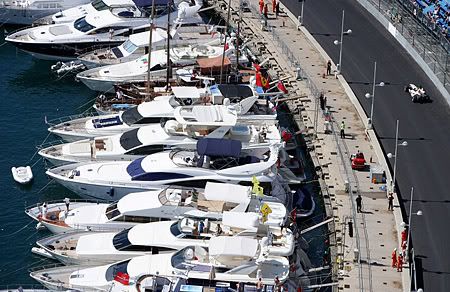 The Circuit
No of Laps 78 laps
Circuit Length 3.340 km
Race Distance 260.520 km
Conceived by Antony Noghès, the Monaco Grand Prix remains the most famous race on the Formula One calendar. First held in 1929, the street circuit is tight, twisty, bumpy, slow and totally unforgiving - an anachronism for today's Formula One cars that gasp and crawl around its 3.340 km lap. To this day, Monaco remains the race that every driver dreams of winning sometime in their career.
In terms of chassis set-up, the overriding concern at Monaco is downforce. Overall speeds are low - cars may reach a maximum of 290kph through the famous tunnel but the average speed for a lap is less than half that. The result is that engineers throw everything they can at their cars to generate downforce and optimise low-speed handling. Securing a good grid position is vital since overtaking is truly problematic, while fuel consumption and tyre wear are not significant issues. It's a weekend that requires maximum concentration and consistency from drivers and team members alike.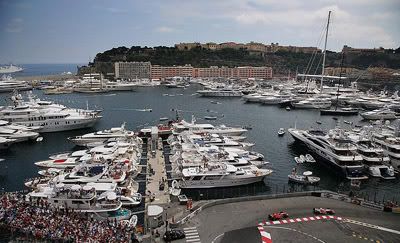 News and photos used with permission Honda Racing F1.com, BMW Motorsport, McLaren.com and Toyota no reuse of the images or news used here for any reason.
formula-1
motorsport
monaco
ferrari
alonso
schumacher