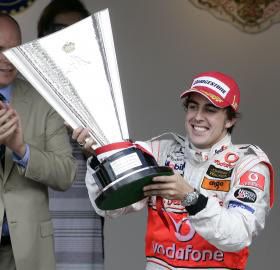 Vodafone McLaren Mercedes continued their domination of the 2007 Monaco Grand Prix weekend when Fernando Alonso and Lewis Hamilton claimed the team's second one-two finish this season. Fernando crossed the line first with Lewis four seconds behind. Both drivers had lapped the entire field apart from Felipe Massa in third place who was 69 seconds behind Fernando. Both drivers were on a two stop strategy with Fernando coming in on laps 26 (7.5 seconds) and 51 (7.9 seconds) whilst Lewis pitted on laps 29 (8.9 seconds) and 53 (5 seconds). Fernando is leading the World Championship with Lewis second – both on 38 points. The Vodafone McLaren Mercedes team extended their lead in the Constructors Championship and now has 76 points.
FERNANDO ALONSO
"This win means a lot to me and our World Championship Campaign. It's a very nice surprise to see how the team's hard work during the last couple of weeks has made our car so competitive. I have never had the experience of being more than one minute ahead of the competition which probably makes this one of my best victories. I didn't get off the line brilliantly from pole position, but as there is such a short run to the first corner I was pretty sure that I would be able to keep the lead. However, as I was able to save fuel in my first stint I was able to stay out for two more laps than originally planned. After that the race was pretty quiet with only the backmarkers causing a few problems especially shortly before my second pitstop when I lost a lot of time. I will enjoy this victory and look forward to the races in North America."
News used with permission from McLaren.com.