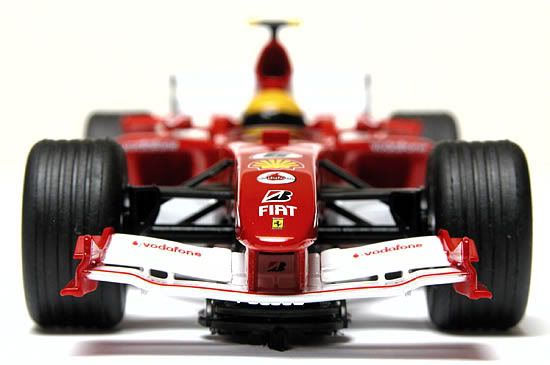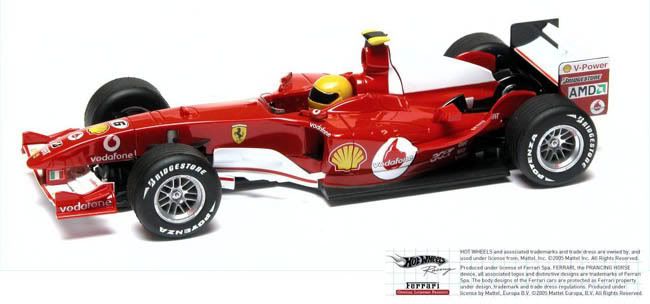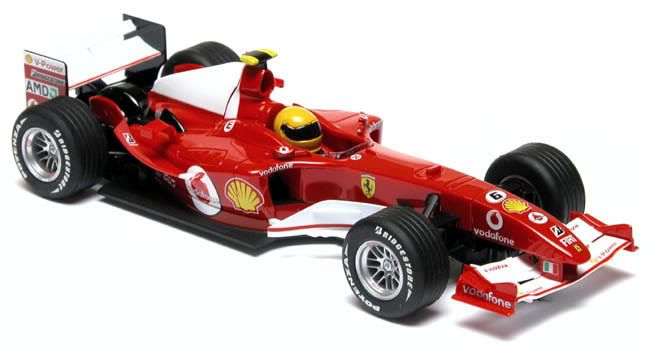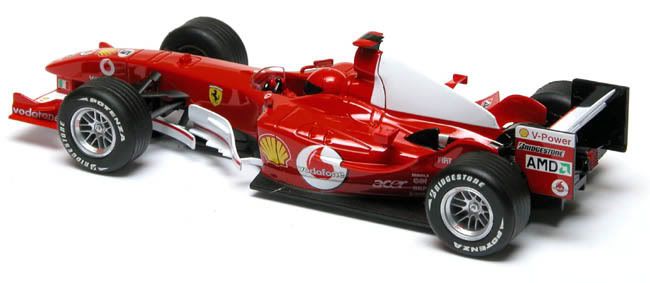 Name: Ferrari F1 2006
Reference No:
C2752-Massa
C2751-Schumacher
Class: F1
History
Felipe Massa's season in 2006 improved with time finishing with 2 wins and 7 podiums.
The Scalextric car
This is an important model for the F1 enthusiast to collect as well as, of course, a fantastic car to race bearing such an important pedigree.
Advantages:
This car has not yet been produced by Carrera and TecniToys.
Our car benefits from finer detail and is a more accurate representation in scale and proportional terms than our competitor's examples from previous years for this car. This makes our version of the car a better model to display as well as race. The super fast FF motor propels this light-weight 64 gm car to top speed particularly quickly. The 'stepped' magnet gives low down-force when driven in a straight line but greater down-force in the corners making our car a faster. The tampo printed livery is of our usual extremely high standard and is generally considered by the enthusiast to be the best available.
Features:
Rear mounted, in line FF motor. Fine detail wheels. Quick-change braid plate. Stepped magnet.
Dimensions & Configuration
Car: Overall length 143 mm, Wheelbase 93 mm, Weight 64 gm
Rear: Axle width 57 mm, Tyre diameter 21 mm, Width 12 mm
Front: Axle width 55 mm, Tyre diameter 21 mm, Width 11 mm
Magnet: Stepped 2 mm, Gear ratio 09:27
Motor: In-Line Rear Mounted 2 wheel drive Mabuchi S 18k rpm
Produced under license of Ferrari Spa. FERRARI, the PRANCING HORSE device, all associated logos and distinctive designs are trademarks of Ferrari Spa. The body designs of the Ferrari cars are protected as Ferrari property under design, trademark and trade dress regulations. Produced under license by Mattel, Europa B.V. All Rights Reserved.
HOT WHEELS and associated trademarks and trade dress are owned by, and used under license from, Mattel, Inc.©2005 Mattel Inc. All Rights Reserved.