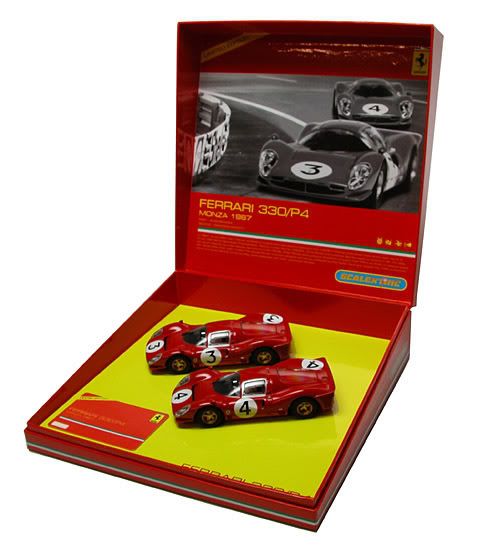 History:
In 1967, on the 25th April, Ferrari achieved a superb first and second placing in the 1000Km Monza endurance race which was round 3 of the 18th World Sportscar Championship. Racing in their Ferrari 330/P4, Chris Amon and Lorenzo Bandini sped to victory in 5h 7m 43s with Amon clocking up a new fastest lap record of 2m 55.8s. Mike Parkes and Lodovico Scarfiotti brought their P4 in to finish in second place, 3m 16.2s after their team mates. The double Ferrari triumph certainly did not go unnoticed by the Italian fans who scaled the 12ft protection fence and swarmed the circuit so they could celebrate with their victorious heroes.
Scalextric advantages:
An excellent limited edition presentation pack containing a pair of one of the most famous GT cars in history represented in an attractive Ferrari red limited edition box. This makes a fantastic gift or addition to a collection for anyone remotely interested in Ferrari racing cars and motorsport.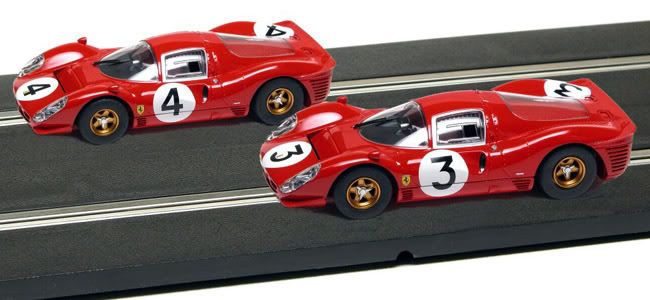 Features:
Presentation:
A limited edition special presentation box containing a brief racing history and a limited edition card embossed with the specific limited edition number.
Cars:
Rear mounted side-winder SP motor. Shape captured well. Quick-change braid plate.
Dimensions & Configuration:
Car: Overall length 133 mm, Wheelbase 75 mm, Weight 78 gm
Rear: Axle width 57 mm, Tyre diameter 22 mm, Width 10 mm
Front: Axle width 56 mm, Tyre diameter 21 mm, Width 9 mm
Magnet: Bar 2.5 mm, Gear ratio 11:36
Motor: Side-Winder Rear Mounted 2 wheel drive Mabuchi SP 18k rpm