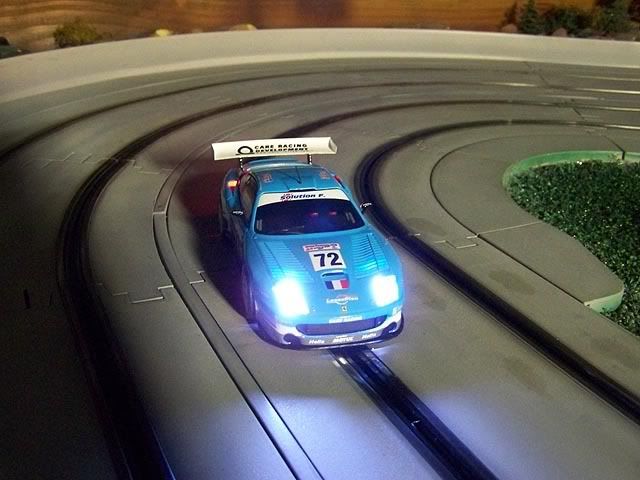 Used with permission from Harry Wise of Home Racing World:
Most of us in this hobby have our favorite style or series of racing that we enjoy the most. Sometimes it is due to the class or series, other times it be simply the time period. But what if it is just about the fun factor a car delivers? As odd as that may sound, it seems to describe my recent attraction to the GT line of models from SCX.
These models have been around for quite awhile in our hobby to say the least. I have had many different styles and brands over the years with some getting more attention than others. Although I know little about the 1:1 series as I do not follow it as closely as some, I do know a fun slot car when I drive one and this car combined with a few others has really delivered some very close, fun racing in our old basement.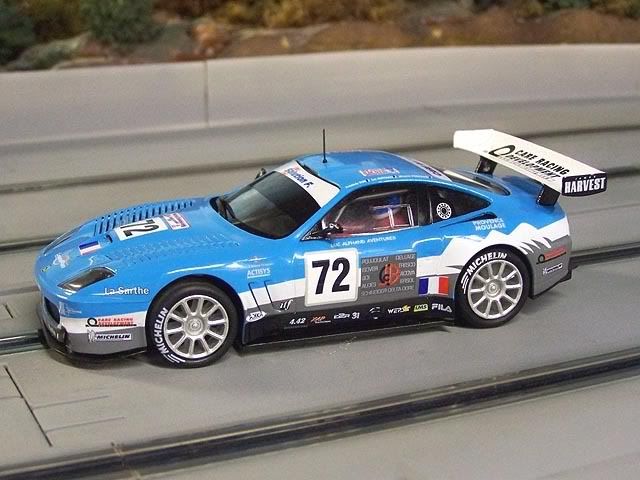 This particular Ferrari was on my list not so much for the livery, but so it could broaden our current field of models in the GT line. I did not have the 550 and expected it to fit right in with the 360, Aston Martin, and Corvette we currently are racing. It mind seem odd for SCX to choose a livery from 2003, but I am glad they did.
This model gets decent marks for scale detail as SCX has captured the overall shape and look of the car very well. The rear wing appears to be incorrect according to prototype photos, but still it plays the role well enough for most enthusiasts here. The bottom paint of gray should have been on the lighter side of silver, but again nothing too offensive.
Interior detail is more than enough considering you really cannot see much from the outside. Roll bars are visible along with our driver figure which adds enough detail for my eyes. The mirrors, top antenna and rear wing are stiff plastic and will not stand up to repeated hard crashes, so you better keep her in the slot!
Read the full review at this link.
And thanks again to Harry for the use of his review.