A while ago I introduced
Bob Pomann
here on Slot Car News. Bob's an interesting guy, by day he's a world class sound engineer in NYCity, but in his off hours Bob seems to have this way of making the scene as a "slot car consultant" on a number of commercials. Bob's most notable commercial to this point was the Mazda "Adventures of Wild Child" commercial.
Read the full story at this link.
A year ago this weekend I met Bob at the New York Toyfair. I've gotten to know Bob over the year and his excitement for slot cars (especially digital systems) is unmatched. So when he called me recently and proceeded to tell me that he was involved yet again with a slot commercial I sure wasn't surprised. This time the rumor had been going around for some time here in the states that there was a big commercial being shot for Nascar. Well, close. The commercial was shot for the Nationwide Series (formerly the Busch Series). The rumor had it that it was a commercial that featured a field of Carrera C.O.T.'s...well not exactly. Since the commercial is not for Nascar's Winston...er...Nextel...I mean...Sprint Cup, the field must be made of the aero body and not the C.O.T., and that's exactly what Bob confirmed.
The 5-day commercial shoot was done in various sets in NYCity. The commercial featured 40 cars, mostly Scalextric and SCX, with a few Carrera COT's in the back of the field as fillers.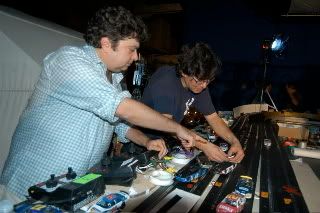 That's Bob in the foreground I think looking official.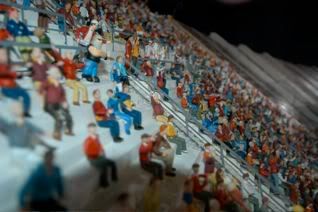 Bob's huge selection of "little people" was rented to the production company for the shoot.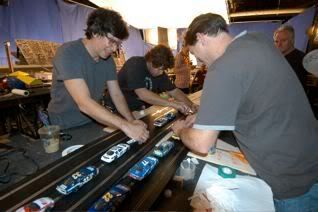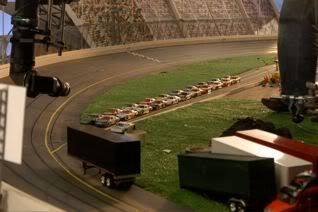 Here you can see the main straight with the grandstand in the background. A section of the track was routed and the rest was Scalextric sectional track.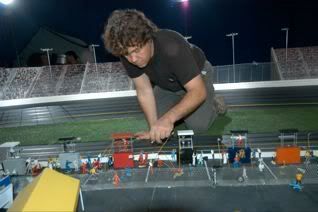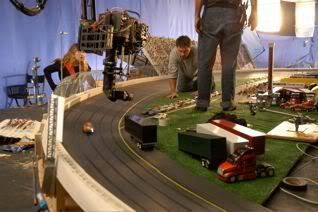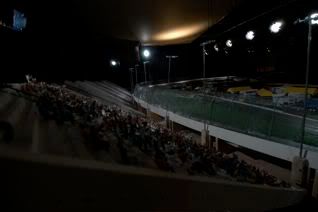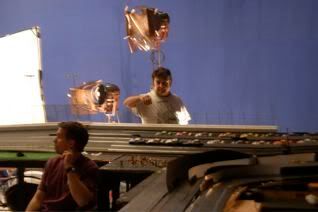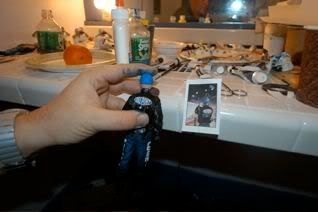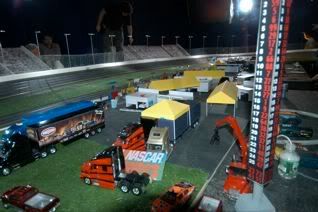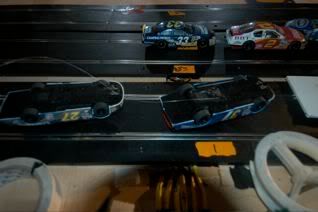 The 40-car-field was pulled along for one of the shots using fishing line hooked from car to car so they'd all move at once.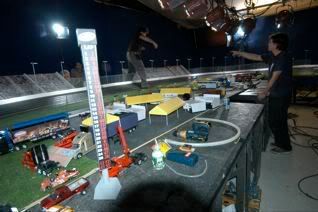 The track was fully functional. To get the accidents seen in the commercial (and I still have yet to see any of the 5 spots that were shot), an airgun was used to blow the car off the track to make a realistic looking impact. This was a trick used on the Wild Child commercial to blow the doors off the Porsche diecast seen at one point in the commercial.
It seems that every year a few more commercials are made using slot cars as a featured part of the commercial or as a bit player...maybe one of these days we'll see an actual slot car commercial on TV here in the US... stranger things have happened!
Thanks to
Bob Pomann
for use of his photos and for the interview!
Dave Kennedy
Publisher, Slot Car News