So the Global Proxy Race cars have arrived and are already qualifying on Terry Noe's track in Newton Iowa, USA. Terry will run the entire race stop solo.
The GT field waiting to qualify.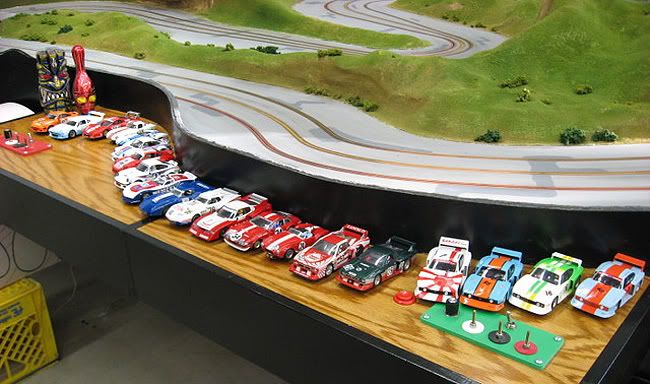 The entire field after being unboxed.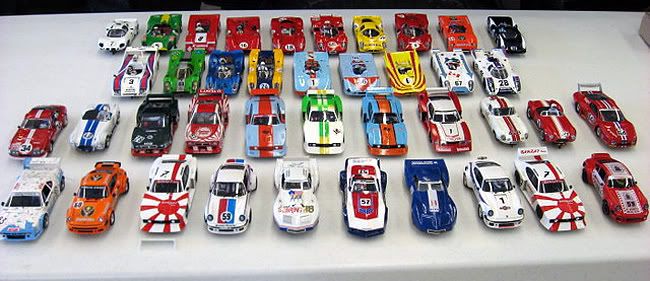 Terry's reportage of qualifying (below) is taken from his thread on Slot Car Illustrated.com. This is the complete GT qualifying account.
11.231 sec. #59 Canon Porsche 911, Dave K. Zero deslots. No flaws with this car. Easily handles ever portion of this track. Fastest lap happened second from last lap. This is one of those "keep the throttle pinned for the whole lap" cars. Its that easy to drive.
11.239 sec. #7a Capri RS Turbo, Tony Kuljis. Zero deslots. Nice smooth runner. Car shows no signs of fading with the NSR tires. Well set-up.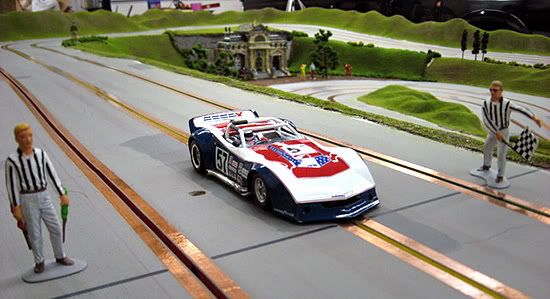 11.265 sec. #57 Corvette L88, JT Previa. Zero deslots. This is no trailer queen! This car plain and simple made a statement here. This one does it all. The car gets a bit bouncy and loose at spots and is easily corrected. Never once did it feel like I was loosing control. Wow!
11.275 sec. #76 Greenwood Corvette, Redbull Noe. 3 deslots. This car is a one hit wonder. Achieved fast lap early then faded into the sunset. Chatters in and out of the corners. Lowest geared (11/36) of the 23k blackcan cars and the lap times show it. Car was built for this track @ 10 volts.
11.327 sec. #34 Ferrari 365 GTB/4, SpiritRacer Club. Zero deslots. This one rocked from start to finish. Kick butt Boxer power with PPR's and great brakes. The plastic front wheels really wobble and make this car very jumpy in the corners. BWA or Slot.it hubless wheels up front would of made this HRS car a run away favorite. Nice.
11.334 sec. #48 Gulf Capri RS Turbo, RecklessRacer. 2 deslots. Very challenging to drive, I like it. Smooth driver that needs to be pushed to make go fast. Car is geared too high for this track and seems to leave the car lacking punch coming out of the corners. Ortman tires let the rear drift in unpredictable places. Both deslots occurred down the hill in front of the Mausoleum. Very early braking will prevent deslots in that area come race day.
11.340 sec. #64 Ferrari 512, BJ. 2 deslots. My scale shows 127g. This car is a tank that is stuck down to the track. Car tended to suddenly let loose in some of the curves which caused the deslots. This one should challenge the leaders.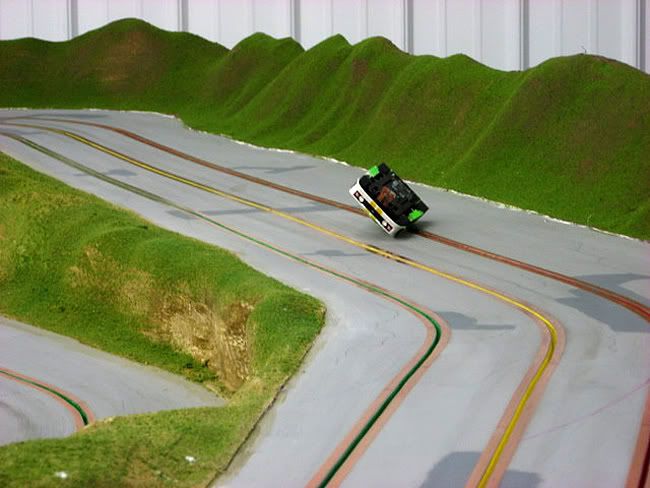 11.349 sec. #16 Capri RS Turbo, Smokeio. 2 deslots. Another Ortman tire, high geared car makes for a challenging driver. 23k blackcan loves this track even with the 2.67 ratio. Smokeio's Capri was the first (so far) to deslot after the straight and once in the S curves. Ortman tires let rear drift too much in corners.
11.387 sec. #1 Toyota LB Turbo, Robert Livingston. Zero deslots. So freaking smooth its kinda spooky. Well balanced car that is very easy to drive. Best 21.5k car I've driven so far.
11.419 sec. #1 Porsche 911, Dr.Vanski. Zero deslots. Nice driver here too. The car chatters in the curves but holds the track instead of deslotting.
11.424 sec. #26 Lancia Beta Montecarlo, WPSOKO1. Zero deslots. Very smooth and easy to drive. This 23k is geared closer to what this track likes. It feels like the car is flying on the track. I'll be taking notes from this one.
11.464 sec. #83 BMW M1, Phil Kalbfell. 2 deslots. The loudest GT car of the group. NSR tires are getting great traction. Very well put together.
11.487 sec. #24 Cobra Roadster, Gascarnut. Zero deslots. This car works great and is very consistent. Really smooth too. The narrow width of this car was intimidating at first but it likes to go fast.
11.599 sec. #95 Capri Rs Turbo, PeteN95. 1 deslot. With the 17k motor, this car really needs a lower gear. It drives very nice and Ortmans chattered a couple of times in the corners. I can almost hold the controller wide open the whole time. The one deslot occurred in front of the Mausoleum.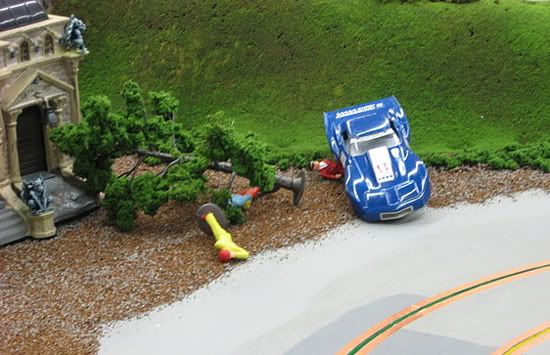 11.602 sec. #11 Greenwood Corvette, SpiritRacer. 4 deslots. I'm renaming this car "Death Ride". PPR's grip so much it causes car to lift out of slot and deslot in breathtaking fashion. The Corvette deslotted on "deadmans" curve and continued down the track on its side, riding on the two right side tires and ended up in the grass. Later it took out the large oak tree (intended for Austin) and three spectators near the Mausoleum. I had to take a 5 minute break, I was laughing so hard. Its race worthy and will go the distance. I just need to really pay attention before it starts getting loose.
11.802 sec. #59 Martini Porsche 911, AtticRacer. 1 deslot. I thought this one was going to give DaveK a run for the top spot. Silicone tires must be out of round. Every left hand turn caused this car to bounce and chatter alot. My track has more left turns than right too.
11.850 sec. #49 Cobra Roadster, Austin. 1 deslot. PPR"S grip very good. Car chatters alot in the curves. Fast lap was difficult to achieve.
11.945 sec. #68 Jagermeister Porsche 911, Kazooracer. 4 deslots. Ninco hop kept this great looking car from its potential. I can drive it with minimal hop, but lap times will suffer. The motor came loose during one of the hopping episodes. Better that than stripping the crown gear.
12.083 sec. #7 Capri RS Turbo, Davols. Zero deslots. Not sure of the brand of tire on this car, Ortmans? This car took many tire cleanings to get it to hook up. The tire contact patch looks narrow compared to cars with the same width of tire. Drives good just not very consistent in the traction department.
13.937 sec. #53 Lancia Beta Montecarlo, TR3. 8 deslots. This cars spur gear rubs the chassis while negotiating left hand turns. The tires seem to be somewhat out of round along with the axle bushings moving causing this one to deslot everywhere. Impossible to drive. The car can race with the tires being a bit out of round but the spur rubbing and the axle bushings are going to plague this car at every track.
14.257 sec. #423 Jaguar XK-E Coupe, Abie321. 3 deslots. car has plenty of acceleration but lacks traction in the curves. Pushing this car only makes it bounce out of the slot and tip over in some of the curves. I'll double check the axle bushings tomorrow to see if either are loose. Its on the verge of being impossible to drive.