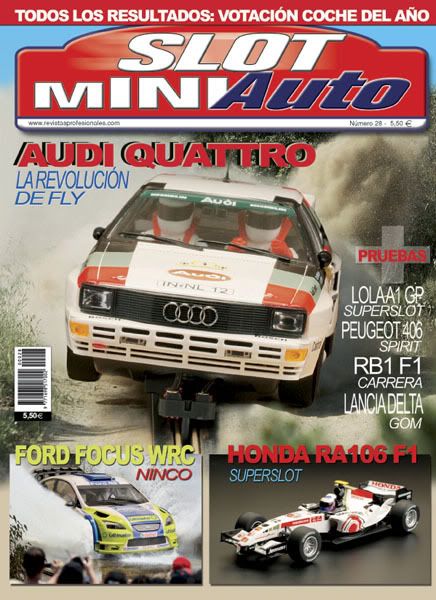 The magazine MiniAuto Slot corresponding to the month of February, arrives full from new features. In the first place, and occupying an outstanding place in the cover, the new Fly's Audi Quattro A2. Also the track test of the new Ninco's Ford Focus WRC and of the Scalextric's Honda F1 stands out. In the interior can be seen the track tests of the Scalextric Lola A1 GP, Peugeot 406 Coupé BTCC (Spirit), Red Bull F1 (Carrera) and Lancia Delta (Gom). In this number is also published the results of the election of the MiniAuto Slot Car of the Year 2006.
-------
La revista MiniAuto Slot correspondiente al mes de febrero, llega llena de novedades. En primer lugar, y ocupando un lugar destacado en la portada, el nuevo Audi Quattro A2 de Fly. También se destaca la prueba en pista del nuevo Ford Focus WRC de Ninco y del Honda F1 de Superslot.
En el interior se pueden ver además las pruebas en pista del Lola A1 GP de Superslot, Peugeot 406 Coupé BTCC de Spirit, Red Bull F1 de Carrera y Lancia Delta de Gom.
En este número de MiniAuto Slot se publican además los resultados de la elección del Coche del Año MiniAuto Slot.
-------
Der spanische zeitschrift MiniAuto Slot, vom Februar, es kommt voll von den neuen slot modelle. An erster stelle, und einen hervorragenden platz in der abdeckung besetzend, das neue Audi Quattro A2 von Fly. Auch der strecken test von neuem Ford Focus WRC von Ninco und des Honda F1 von Scalextric steht heraus.
Im Inneren können die tests zusätzlich zum Lola A1 GP von Scalextric gesehen werden, Peugeot 406 Coupé BTCC (Spirit) , Red Bull RB1 F1 (Carrera) und Lancia Delta von Gom.
In dieser zahl werden die resultate zur wahl des MiniAuto Slot Autos des Jahr 2006 zusätzlich veröffentlicht.
-------
MiniAuto Slot che corrisponde al mese di febbraio, arriva in pieno dalle novità. In primo luogo ed occupando un posto eccezionale nella copertura, il Audi Quattro A2 di Fly. Inoltre la prova della pista del nuovo Ford Focus WRC di Ninco e di Honda F1 di Scalextric si leva in piedi fuori. Nell'interiore possono essere viste le prove in pista del Lola A1 GP di Scalextric, del Peugeot 406 Coupé BTCC (Spirit), del Red Bull RB F1 (Carrera) e del Lancia Delta (Gom). In questo numero inoltre è pubblicato i risultati dell'elezione dell'automobile dell'anno 2006 di MiniAuto Slot.
--------
Articles in this issue:
Supertuned Racers, Part 14:
Assembling the Slot.it 1972 Ferrari 312PB by Marc Purdham
Race-Tune Your Race Car:
Supertuned Racers, Part 15: LeMans: Spirit 2005 Dallara Judd by Marc Purdham
NASCAR Cars:SCX Ford Fusion NASCAR by Marc Purdham