Terry's still at it! Now he's qualifying the prototype cars for his leg of the Global Proxy Race.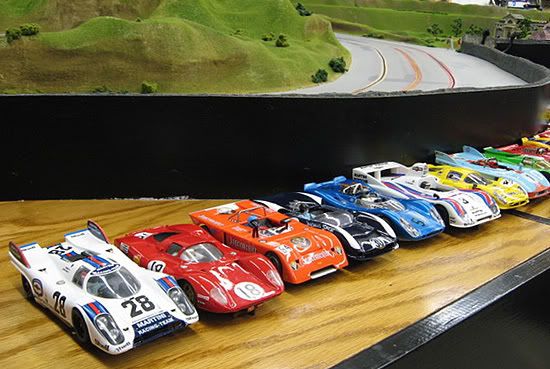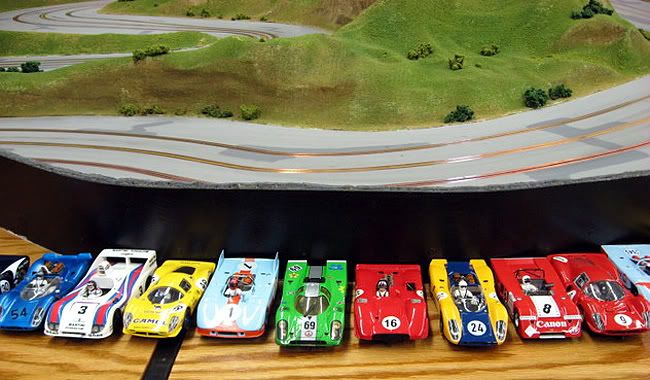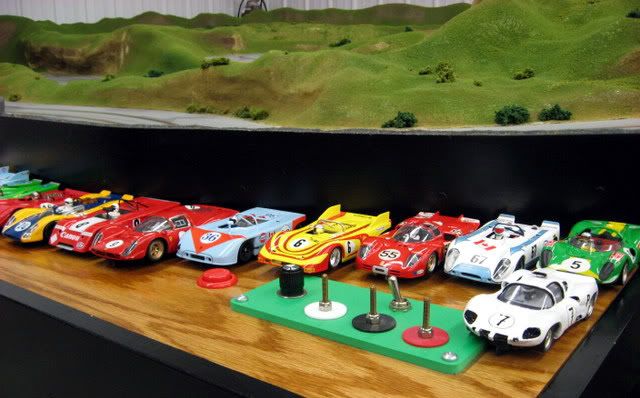 Text and photos by Terry, taken from thread on SCI.
10.992 sec. #67 Porsche 908/2
(photo below)
, WCR. 1 deslot on deadmans curve (see pics in separate post). Car is boogying no doubt about it. PPR's are working great. Guide is tighter than most other GPR cars.
11.020 sec. #55 Ferrari 512S Spyder, R.Livingston. 1 deslot. Oh, how I'd love to drive this car with PPR's. The "Widow Maker" which is the curve in front of the green and red drivers stations gave this car some trouble. Ortmans would let go causing the cars rear end to kick out. Car is well balanced and likes to go fast.
11.035 sec. #5 Ferrari330 P3, Abie321. 1 deslot. Right tires for this track. Car doesn't seem to flinch any where except for slight chattering. This is mainly b/c the motor pod is tight in the HRS chassis. S1's work great here and the weight of the car helped even more.
11.283 sec. #1 Porsche 908/3, Tony Kuljis. Zero deslots. Drives nice and smooth. NSR's not really hooking as well as they should. 3M tape not the best for cleaning NSR's. Tends to get tail happy in the S curves but stays in the slot.
11.389 sec. #36 Porsche 908/3, RecklessRacer. Zero deslots. So easy to drive, I was tempted to tape the trigger wide open and go in the house. Very good car IMO. Very difficult to make the car get out of shape.
11.529 sec. #8 Chevron, DaVols. 3 deslots. S curves weren't friendly to the Chevron as the car gets tippy and deslots. For a P3 rubber tire car, I give this guy a thumbs up. Car accelerates like it needs another 15' on the straight.
11.549 sec. #9 Ferrari 330 P4, PeteN95. Zero deslots. Fast to the point of being on the verge of losing control and corrects itself. NSR tires lack the needed grip.
11.590 sec. #24 Porsche 908, Bluetoes 591. 3 deslots....more actually but the car would get back into the slot after it came out. Did that about 6 times, never seen a car do that so well. This one had all the components of a lap killer but something was amiss. Almost like the PPR's were gripping too much making the car get tip and come out of the slot. Very quick but had troubles with the curves here.
11.985 sec. #6 Porsche 917k Spyder, BigDSonic. 4 deslots. Unique chassis design lets the body roll to far bringing the opposite front wheel up and causing the guide to come out of the slot. This car flies down the straight sections but needs limiters to keep from lifting guide out of slot.
12.436 sec. #7 Chaparral, Austin. 3 deslots. The second squeeze on the track deslotted this one every time. I had to slow way down to make it through here. Car is tipsy in the tight curves. The car handles the S curves very nice.