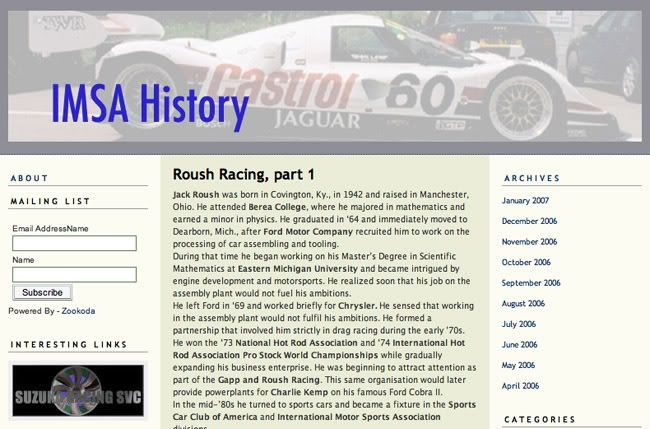 Slotters are always looking for good resources. We need to know what cars looked like so we can do accurate repaints or mods to bodies. This blog is just about the best reference I've seen in a long time. There are lots of photos and tons of detailed information about the cars/drivers/history of IMSA. It's quite simply a must read.
From Alexis Gousseau publisher of the
IMSA History blog
:
"I am very interested in Endurance racing and my great passion is for IMSA.
I have just created an IMSA blog one year ago, which is exclusively dedicated to the IMSA Camel GT series. I want to make it become some kind of reference for the fans, and I am working hard on it. I have got a lot of support from many people, including drivers, photographers and fans. Many posts are to come, and it will grow every week or so."
I've added the blog to the "Racing & Car bloggers" permanent links on the right sidebar.
DaveK