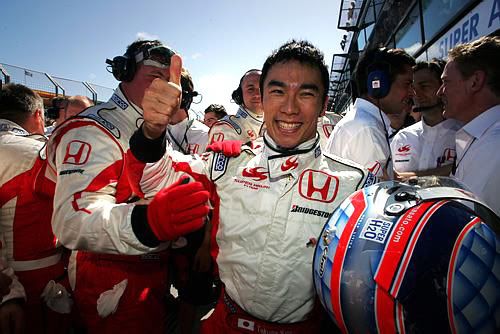 Sutton Images via SuperAguri
The news of the day was clearly Takuma Sato of the Super Aguri F1 Team as he qualified 10th, beating the "other Honda" F1 cars at their own game...at least during qualifying.
Takuma Sato
"What can I say, it was an absolutely fantastic team effort. It was a difficult day again as it was spitting with rain and a set-up change took longer than expected in the practice session so we only completed a few laps. During the whole of Qualifying the team worked well together, building up the car, step-by-step and things just went the right way. I was always going to be very happy if we made it into Q2, but I never imagined that we would reach Q3 - but we did, and it is a great feeling. Obviously this is just the start of the season, and we have a lot of work to do, so for tomorrow we just hope to have a good race."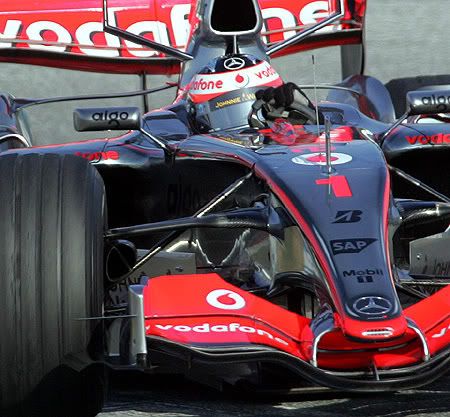 Image from www.McLaren.com
Formula One Grand Prix at Albert Park in Melbourne.
1. Kimi Raikkonen (Finland) Ferrari
2. Fernando Alonso (Spain) McLaren
3. Nick Heidfeld (Germany) BMW Sauber
4. Lewis Hamilton (Britain) McLaren
5. Robert Kubica (Poland) BMW Sauber
6. Giancarlo Fisichella (Italy) Renault
7. Mark Webber (Australia) RedBull - Renault
8. Jarno Trulli (Italy) Toyota
9. Ralf Schumacher (Germany) Toyota
10. Takuma Sato (Japan) Super Aguri - Honda
11. Anthony Davidson (Britain) Super Aguri - Honda
12. Nico Rosberg (Germany) Williams - Toyota
13. Heikki Kovalainen (Finland) Renault
14. Jenson Button (Britain) Honda
15. Alexander Wurz (Austria) Williams - Toyota
16. Felipe Massa (Brazil) Ferrari
17. Rubens Barrichello (Brazil) Honda
18. Scott Speed (U.S.) Toro Rosso - Ferrari
19. David Coulthard (Britain) RedBull - Renault
20. Vitantonio Liuzzi (Italy) Toro Rosso - Ferrari
21. Adrian Sutil (Germany) Spyker - Ferrari
22. Christijan Albers (Netherlands) Spyker - Ferrari
JENSON BUTTON
Saturday Practice: P17 1:28.119
Qualifying 1: P15 01:27.540 | Qualifying 2: P14 01:27.264 | Qualifying 3: –
"It hasn't been a good weekend for us so far. Today it was difficult to judge how hard to push the tyres. At the start of the lap I was getting understeer because the tyres were not up to temperature, then later in the lap I was getting oversteer as the rears were going off, which just show the issues that we have. I got the best out of the car today and right now we are where we are. We'll obviously do what we can for the race then we have some work to do to start addressing the issues we have identified."
Giancarlo Fisichella
"As always, it was a tough qualifying session, but I feel we didn't achieve the maximum this afternoon. My position is pretty much as expected, behind McLaren and Ferrari, but I think I could have gained a place or two without traffic on my final timed lap, which slowed me down in the last three corners in particular. We had expected qualifying to be tough because we know the car's speed on a single lap is not as competitive as the long runs at the moment. Now, we need to wait and see what the race pace is like. We were competitive this morning and yesterday afternoon, so hopefully I can make up some ground at the start – and then fight for the podium."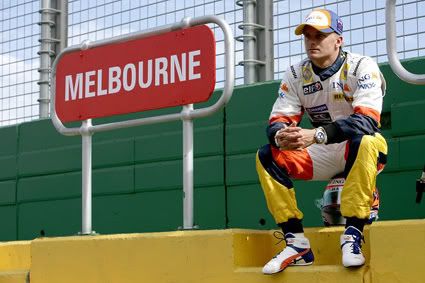 Image copyright Renault F1
Heikki Kovalainen
"The car was fine and the balance was good, but I just wasn't able to get the maximum from it on a single lap. I lost track time yesterday and this morning, and my times were a little bit off in every sector. Obviously, this performance is not good enough, but there is no point dwelling on it now. Starting from P13 is not ideal for my first Grand Prix, and I will need to race aggressively to get a points finish. That will be my target for tomorrow."
Images copyright respective sources, no reuse for any reason.