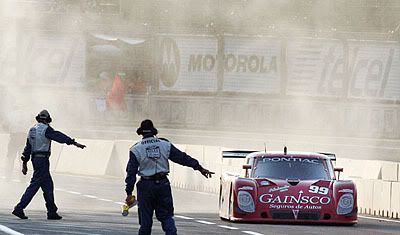 MEXICO CITY, Mexico (March 3, 2007) – In a thrilling battle over the last 12 laps of the Grand-Am Rolex Sports Car Series Mexico City 400k, Alex Gurney claimed the lead from Max Papis for the final time with slightly more than two laps to go to claim a hard-earned first Rolex Series victory for himself, co-driver Jon Fogarty and the No. 99 GAINSCO/Bob Stallings Racing Pontiac Riley team.
After taking over the No. 99 machine from Fogarty during a Lap 60 pit stop, Gurney found himself trailing Papis in the No. 75 Krohn Racing Pontiac Riley by as many as 12 seconds. Without the benefit of a full-course caution, Gurney managed to chip away at Papis' lead over his stint and finally caught up to the Italian within 15 laps of the checkered flag.
Taking advantage of slower traffic that bottled up Papis, Gurney took the lead with a door-banging pass in Turn 6 on Lap 88 of the 100-lap event. However, the 2004 Daytona Prototype co-champion quickly took up the chase and would not go away quietly. When Gurney was slowed by lapped traffic coming onto the front straight with five laps remaining, Papis pounced on the opportunity and won a drag race with Gurney to retake the lead.
Just as Papis had done, however, Gurney also kept the pressure on for a fight to the finish. On Lap 97, Papis spun off course in Turn 5, handing the lead to Gurney, who went on to win by 7.359 seconds. The maiden Rolex Series victory for Gurney came in his 22nd start on the same circuit where his father, legendary racer Dan Gurney, won a Formula 1 race in 1964. Gurney led a total of 11 laps.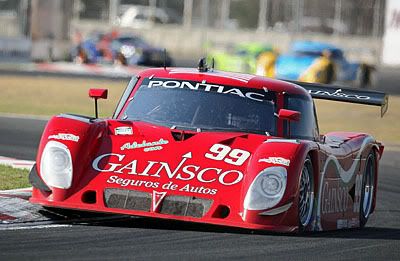 "Jon handed the car to me in second so we knew we had a chance," said Gurney. "The track was working well at the beginning of my stint, but after I got by Max, I though I was going to pull away. Max was super-quick after that, and when we caught the GT car in Turn 8 and he got by, it was like a dagger in my heart. Unfortunately for him but lucky for us, he had a little problem a few laps later, and we were able to get back by. I couldn't be happier for (team owner) Bob Stallings, GAINSCO and the whole team for how hard they work."
It was also the first Rolex Series victory for Fogarty, who made 13 previous Rolex Series starts before the Mexico City 400k. Fogarty ran the bulk of his stint in second position, but took over the lead for three laps when polesitter Colin Braun pitted before him.
"On the start, Colin and I got away pretty good," said Fogarty. "I wasn't able to close the gap with him, so we decided to conserve the fuel a bit. With that, we could give Alex the car with fresher tires. The track is tough, but the race was very enjoyable. It was a wild race and I let Alex do all the dirty work. Hopefully, wins will come more frequently from now on."

News and photo used with permission from the Grand American Series, no reuse.