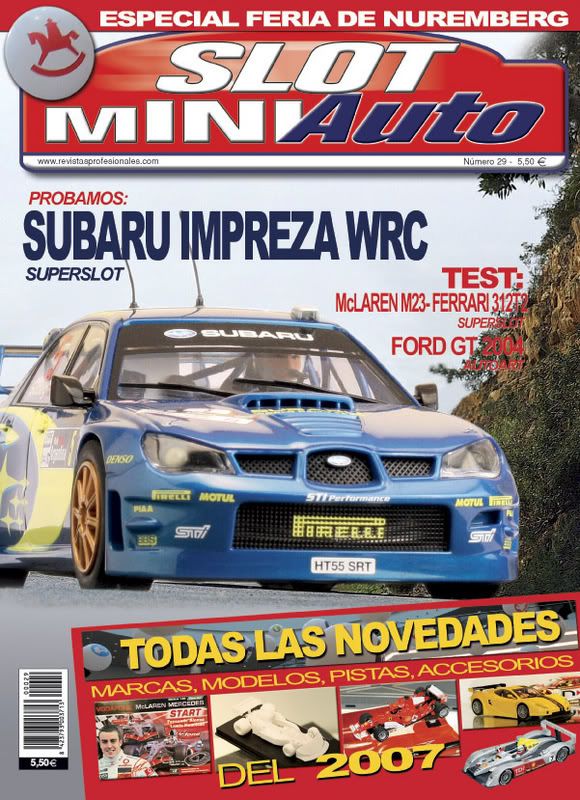 NOTA DE PRENSA
MINIAUTO SLOT 29 - MARZO 2007
La revista MiniAuto Slot correspondiente al mes de marzo, ya esta disponible en los puntos de venta habituales. Este número es casi un monográfico sobre la Feria de Nuremberg, en el que se hace un extenso repaso de todo lo que allí se pudo ver. Además se incluye la prueba, del Subaru Impreza WRC de Superslot, que ocupa un lugar destacado en la portada así como la prueba en pista del Ford GT 2004 de AutoArt en escala 1/24 y una extensa prueba de los dos nuevos monoplazas clásicos de Superslot, el McLaren M23 y el Ferrari 312T.
En este número de MiniAuto Slot se publican además la lista de los lectores agraciados con los premios del concurso Coche del Año.
Albert Boet
Director
MiniAuto Slot
----
PRESS RELEASE
MINIAUTO SLOT 29 - MARCH 2007
The monthly magazine MiniAuto Slot corresponding to the month of March, is already available in the habitual points of sale. This number is almost a monographic of the Fair of Nuremberg, an extensive review of everything what there it was possible to be seen about the slot world. In addition, the test of the Subaru Impreza WRC of Scalextric is included, that both occupies an outstanding place in the cover as well the track test of the Ford GT 2004 of AutoArt in scale 1:24 and one extensive test of new classic single-seaters of Scalextric, the McLaren M23 and the Ferrari 312T.
Albert Boet
Director
MiniAuto Slot