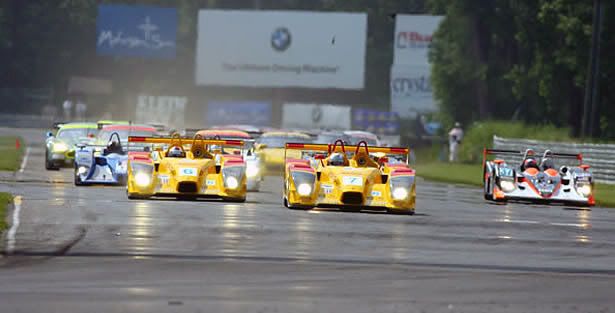 SEBRING, Fla.
- For the opening weekend for the International Motor Sports Association/Sports Car Club of America racing season at Sebring International Raceway March 15 - 17, teams competing in Porsche race cars outnumber the competition by more than three-to-one, with more than 70 Porsches competing in two classes in the Mobil 1 Twelve Hours of Sebring, the IMSA GT3 Cup Challenge presented by Michelin, and the SCCA SPEED World Challenge.
The Mobil 1 Twelve Hours of Sebring will be telecast on Saturday, March 17, live on SPEED TV, starting at 9:30 AM Eastern Daylight Time (the green flag drops shortly after 10:00 AM EDT). In the history of this Florida long-distance classic, Porsche is the most successful manufacturer by far, with the most overall victories (17), the most wins in succession (13 between 1976 and 1988), and the most class victories (62). Porsche also heads another "Best Of" list in Sebring, having led the field over a record 3997 laps overall.
Uwe Brettel, president of Porsche Motorsport North America, said that his parts department personnel and race engineers are ready for the challenge, with a new motorsports parts truck, additional personnel, expanded capacity of the company's headquarters in Santa Ana, Calif., and extra help from the Porsche factory.
" We have both the parts and the expertise to service the Porsche RS Spyder, the Porsche 911 GT3 RSR, and the two variations of the Porsche 911 GT3 Cup race cars - all from a single headquarters right in the Sebring paddock," said Brettel, noting that this weekend's Porsche roster includes six Porsche 911 GT3 Cup cars running in the SPEED World Challenge GT event, four Porsche RS Spyder prototypes in the LMP2 class of the American Le Mans Series' Sebring enduro, ten Porsche 911 GT3 RS/RSRs in the GT2 class of the Sebring 12-hour, and 45 Porsche 911 GT3 Cup races in the IMSA GT3 Cup race.
Porsche RS Spyders - Defending Penske Champions and the New Dyson Challengers
The defending LMP2 driver, team and manufacturer champions Sascha Maassen (Belgium), Penske Motorsports, and Porsche will all be back to try for two titles in a row with factory backing from Porsche AG in Germany. Maassen will be joined by his new partner Ryan Briscoe (Australia) and Emmanuel Collard (France) in the #6 RS Spyder. In the #7 team car, the season-long driver pair of Timo Bernhard (Germany) and Romain Dumas (France) will get third-driver help for this long event from Helio Castroneves (Brazil), a Penske regular in the IndyCar series and former Indianapolis 500 winner.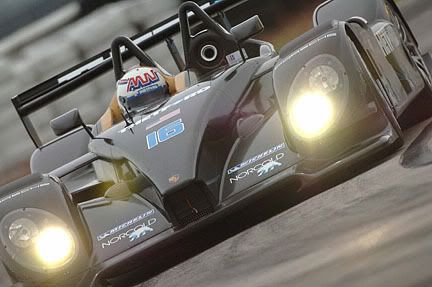 Photo used with permission from Dyson Racing
For 2007, Penske has been joined by Poughkeepsie, NY-based Dyson Racing, which will field two RS Spyders including the #16 prototype driven by Andy Wallace (Great Britain), Butch Leitzinger (USA) and Andy Lally (USA) . Chris Dyson (USA) and Guy Smith (Great Britain) will share driving duties in the #20 Dyson Racing RS Spyder.
With three factory-backed entries from Acura, whose vehicles attracted attention with good test times earlier in the year, and an improved factory entry from Mazda, the LMP2 class battle should provide close racing all season.
GT2 Marks the Debut of the Porsche 911 GT3 RSR (type 997) Race Car
The Porsche 911 GT3 R/RS/RSR family of race cars has won the American Le Mans Series' GT/GT2 class every year but one since the series inception in 1999. Last year was no exception, as Jorg Bergmeister (Germany) won the championship, and with the aid of his co-driver Patrick Long and his Petersen/White Lightning Porsche 911 GT3 RSR, helped Porsche win the manufacturers title.
Photo used with permission from Flying Lizard Motorsports
This year, Bergmeister will defend his title with Johannes van Overbeek (USA) in one of the brand new 911 GT3 RSRs prepared by Flying Lizard Motorsports. For the Sebring event, factory driver Marc Lieb (Germany) joins the the pair. Germany's Wolf Henzler, Patrick Long (USA) and Robin Liddell (Great Britain) share one of the two new 911 GT3 RSRs fielded by Tafel Racing. For the first time, the renowned IndyCar team, Rahal Lettermann Racing, competes in the American Le Mans Series with the new 911 GT3 RSR. Co-team owners Bobby Rahal and David Letterman have signed 1987 Sebring winner Ralf Kelleners (Germany) and Tom Milner (USA) to contest the GT2 season. For the Sebring classic, Rahal's 18 year-old son Graham joins the duo at the wheel of the sports car built in Porsche's Motorsport Center at Weissach, Germany.
Other Porsche GT2 class entries include a Konrad Motorsport entry with Phil Collin/Antonio Hermann/Luchiano DaSilva; the second Flying Lizard Motorsports Porsche driven by Darren Law (USA), Seth Neiman (USA) and Lonnie Pechnik (USA); the new Boston-based Team Trans Sport Racing entry of Tim Pappas (USA), Terry Brocheller (USA) and recent Daytona 24-Hour GT winner marc Besseng (Germany); the second Tafel Racing Porsche of Jim Tafel (USA), Dominik Farnbacher (Germany) and Iam James (USA); the Farnbacher-Loles Motorsports entry of Pierre Ehret (Germany), Lars Erik Nielson (Denmark), and Dirk Werner (Germany); and the Solvakia-based Porsche of Miroslav Konopka, Bo McCormick (England) and Mauro Casadei (Italy).
SPEED World Challenge - Porsche riding high after 2006 title
After upsetting the favored Cadillac factory team to win the 2006 SPEED World Challenge GT championship, Porsche drivers aim to continue their success in modified Porsche 911 GT3 Cup race cars at the 2007 opener at Sebring.
Randy Pobst (USA), who won the final event last year which clinched the manufacturers title for Porsche, will drive a GT3 Cup racer along with former World Challenge Touring Car champion Michael Galati (USA) in a two-car effort prepared by K-PAX Racing. Other Porsche SPEED World Challenge entries include James Sofronas in the Global Motorsports Group Porsche; Eric Olberz in the 911 Design Porsche; Tim McKenzie in the TR Racing Porsche; and John Bourassa in the Team Hurricane Racing Porsche.
Story and top photo used with permission from Porsche. No reuse of story or photos
without permission from those sources.