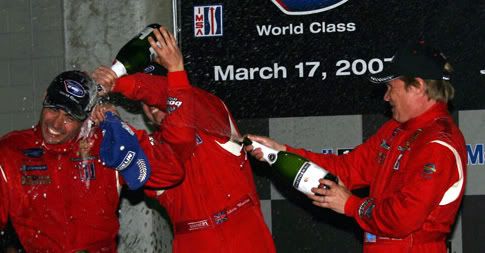 Sebring, Florida -- It was a classic manufacturers' battle between Porsche and Ferrari in GT2 in today's twelve-hour endurance classic, the Mobil 1 12 Hours of Sebring. In one of the largest GT2 fields in ALMS history, the Flying Lizard No. 45 Porsche (Jörg Bergmeister/Johannes van Overbeek/Marc Lieb) battled the entire race against the No. 62 Risi Ferrari, playing a cat and mouse game in which the two cars switched positions more than a dozen times. It became a contest of wills, playing out in an unbelievable near photo finish between Jörg Bergmeister and Jaime Melo.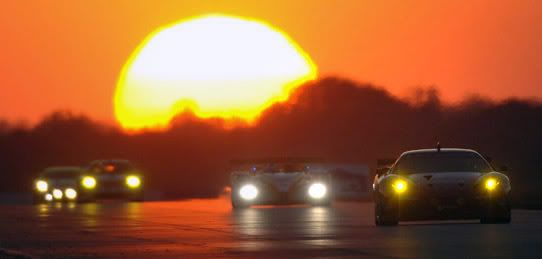 In the last 30 minutes of the race, Jörg gained more than 30 seconds on the Ferrari, finally passing Melo on the final turn just yards before the finish, only to have Melo regain the position with a hard bump to Jörg which nearly sent him into the wall. Jörg finished the 12-hour race just two-tenths of a second behind the No. 62, the closest finish in Sebring class history. The No. 45 was eight laps ahead of the third place finisher, the No. 71 Tafel Racing Porsche.
"I wanted that win," said Jörg, "and I pushed with everything I had to overtake Melo. I'm proud that I was able to get cleanly by him in the last few seconds and that our new car could perform at that level. In the end, they crossed the finish ahead of me. I don't agree with the way that Ferrari achieved their win, but I'm really proud of what we did as a team. My first race with the Lizards was something I will never forget."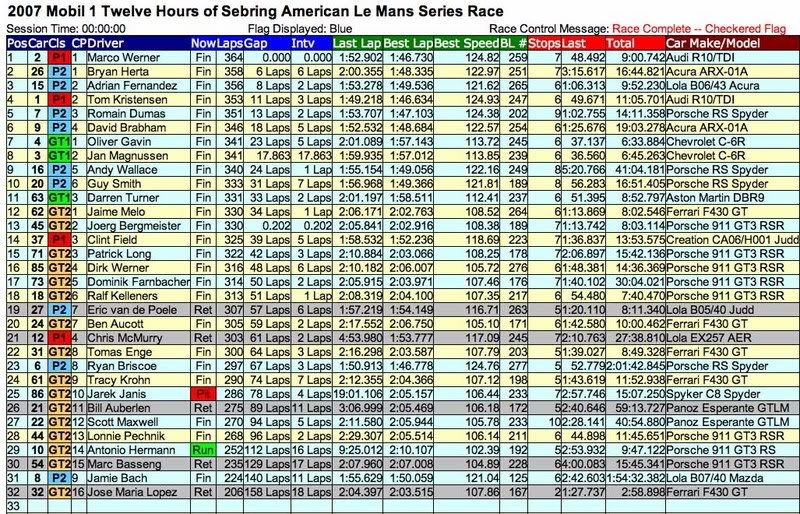 News used from the Flying Lizard Motorsports team, images used from American LeMans Series. No reuse.