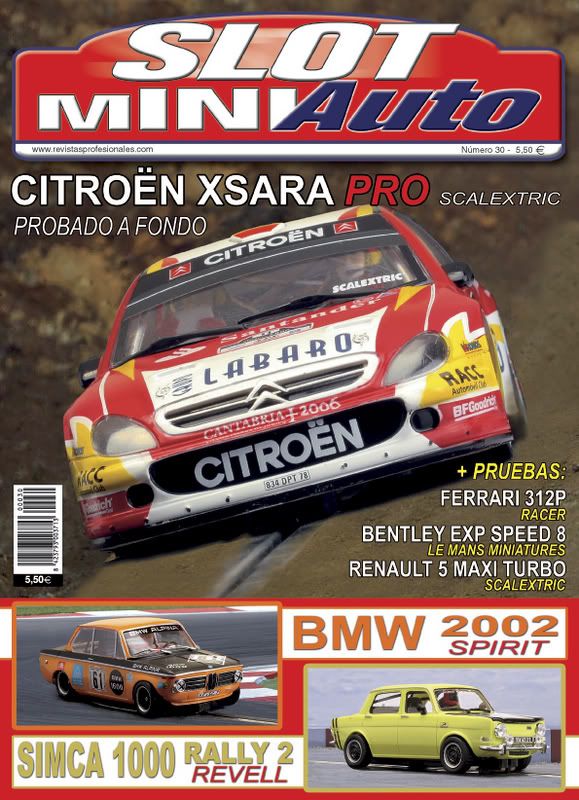 NOTA DE PRENSA
SLOT MINIAUTO 30 - ABRIL
Slot MiniAuto dedica su portada del mes de Abril a la última novedad de Scalextric, el Citroën Xsara Pro, del que se puede leer una completa prueba a fondo realizada por uno de los mejores pilotos de rallyslot de la actualidad. Además destaca la prueba del nuevo BMW 2002 1600 de Spirit y del Simca 1000 Rally 2 de Revell. En las páginas interiores se puede encontrar la prueba del nuevo Ferrari 312P de Racer, el Bentley Exp Sped 8 de Le Mans Miniatures y la prueba en pista del Renault 5 Maxi Turbo de Scalextric.
Además de las secciones habituales, este mes se desvela definitivamente cuál es el coche de suscripción de Slot MiniAuto para el 2007, y además se anuncia un gran regalo sorpresa para el número 31 de Slot MiniAuto del próximo mes de Mayo. Seguro que nadie se lo va a perder.
Albert Boet
Director
Slot MiniAuto
PRESS RELEASE
SLOT MINIAUTO 30 - APRIL
Slot MiniAuto dedicates its cover of the month of April to the last news from SCX, the Citroën Xsara Pro, of which one complete test, made by one of the best drivers of rallyslot of the present time, can be read. In addition it emphasizes the test of new the BMW 2002 1600 of Spirit and the Revell's Simca 1000 Rally 2. In the inner pages the track test of the new Ferrari 312P (Racer), Bentley Exp Speed 8 (Le Mans Miniatures) and the test of the Renault 5 Maxi Turbo (SCX) can be found. In addition to the habitual sections, this month keeps awake definitively which is the car of subscription of Slot MiniAuto for this year 2007, and in addition the announcement of a great surprise gift for number 31 of Slot MiniAuto of the next month of May. Surely that nobody is going away it to lose.
Albert Boet
Director
Slot MiniAuto