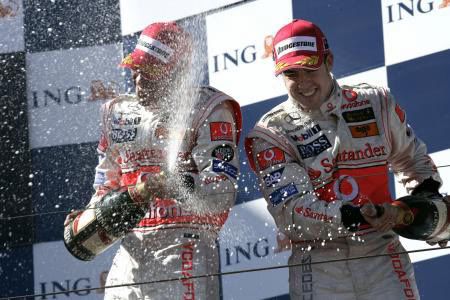 2007 AUSTRALIAN GRAND PRIX
Fernando Alonso and Lewis Hamilton finished today's Australian Grand Prix in second and third places respectively achieving an almost perfect start to the season for the Vodafone McLaren Mercedes team. Lewis' third place was the best performance from a rookie driver since 1996 and the English man even lead the race for a few laps. Today's result puts the team in the lead of the Constructors' Championship. Both drivers were on a two-stop strategy. Fernando came in on laps 22 (9.3 seconds) and 45 (6.5 seconds) and Lewis entered the pitlane on laps 23 (8.7 seconds) and 43 (8.2 seconds).
FERNANDO ALONSO
"What a great way to start the season and my career as a Vodafone McLaren Mercedes driver. Of course it's always better to win but Kimi was a little bit quicker than us today, however we scored the maximum points that were possible, and I'm really pleased. My start was a bit strange with both BMWs being very quick off the line, and I was so busy defending my line from Heidfeld on the outside that it was not possible for me to stay ahead of him. I was then behind Lewis for a while and was just focusing on keeping up with him and sometimes dropping back to allow the car to cool down. I took second after the second pitstop as I was able to stay out for an additional two laps. Originally it was meant to be one lap but because I was behind Lewis I managed to save enough fuel for one more lap. Both of the Bridgestone Potenza tyre options worked well. We will now continue to work hard to give us the best opportunity to beat Ferrari at the Malaysian Grand Prix."
LEWIS HAMILTON
"I'm absolutely ecstatic – today's result is more than I ever dreamed of achieving on my Grand Prix debut. A big thank you to the team who have worked so hard during the winter to make sure I was as prepared as I possible could be. I made a good start but the BMWs were quick off the line and Kubica managed to get past. There was no room on the inside so I got on the left and managed to outbrake both Kubica and Fernando coming into the first corner to take third. The race was intense, and I was working very hard. I made a few mistakes but nothing major and really enjoyed myself. It was great to lead the race for a few laps, but I knew it was only a temporary thing. Fernando got past me at the second pitstop as he was able to stay out a bit longer and I lost some time behind backmarkers. We now have a lot of work ahead of us with the Malaysia test and the rest of the season, but there is no doubt that we can build from what has been achieved today."
Pos Driver Constructor Race Time
1 Kimi Raikkonen Scuderia Ferrari 1h25m28.770
2 Fernando Alonso Vodafone McLaren Mercedes +7.242
3 Lewis Hamilton Vodafone McLaren Mercedes +18.595
4 Nick Heidfeld BMW Sauber +38.763
5 Giancarlo Fisichella Renault +66469
6 Felipe Massa Scuderia Ferrari +66.805
7 Nico Rosberg Williams F1 +1 lap
8 Ralf Schumacher Toyota +1 lap
9 Jarno Trulli Toyota +1 lap
10 Heikki Kovalainen Renault +1 lap
11 Rubens Barrichello Honda Racing +1 lap
12 Takuma Sato Super Aguri +1 lap
13 Mark Webber Williams F1 +1 lap
14 Tonio Luizzi Toro Rosso +1 lap
15 Jenson Button Honda Racing +1 lap
16 Anthony Davidson Super Aguri +2 laps
17 Adrian Sutil Spyker F1 +2 laps
Photo and news used with permission from www.McLaren.com