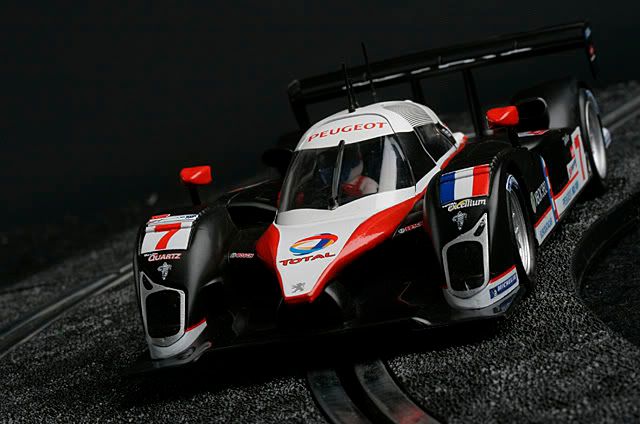 I'm putting the finishing touches on a review of the SCX Peugeot 908HDi, it will be published soon. Until then it's good news for fans of this distinct car to find out that it will be running in the American LeMans series this year!
Read the testing report below from the ALMS website: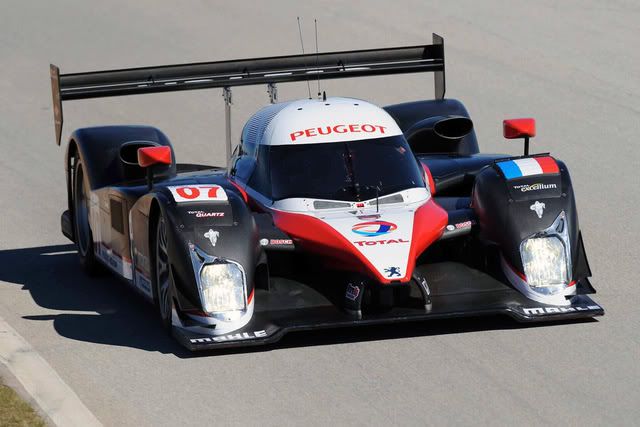 Nic Minassian, Peugeot Sport
Peugeot 908 HDi (LMP1)
"Driving for Peugeot is great. They give you every tool you want. The car is competitive, but has not been reliable. That will be our battle all year.
"Sebring is a very rough track. I could hardly see the corners from the bumps. We are learning a lot. I like this place. It is very different from the European tracks.
"Hopefully, we will be back for the race (an announcement is expected by Feb. 15). It will be a great battle with Audi, Acura and Penske."
The Peugeot 908 fielded by Equipe Total Peugeot was fastest on the second day of the American Le Mans Series 2008 Winter Test at Sebring International Raceway. The No. 07 Peugeot set the fastest lap at 1:42.801 during the morning session, a time faster than last year's 12 Hours of Sebring record qualifying time of 1:44.974.
"I got a good feeling for the car this morning," said Stephane Sarrazin. "We've worked on set up and balance a little since yesterday and had a new set of tires this morning. This is a very difficult track. I've driven here before but in a GT [class car], but the prototype handles differently on this bumpy surface. I really didn't expect to post the time we posted this morning."
The diesel-powered Audi R10 TDI set the second fastest time as Allan McNish piloted the No. 1 Audi around the 3.7-mile circuit in 1:43.639. Tom Kristensen, Dindo Capello, Mike Rockenfeller and McNish will continue their efforts during the final day of testing on Wednesday.