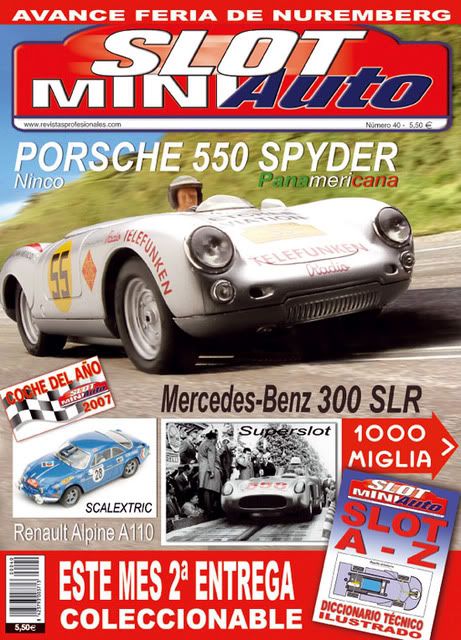 SLOT MINIAUTO 40 – FEBRERO 2008
El Porsche 550 Spyder de Ninco es el protagonista de la portada del mes de Febrero, junto al Mercedes Benz 300 SLR de Superslot.
En este mismo número se pueden encontrar las pruebas en pista del Opel Commodore "Jumbo" y del Porsche 911 GT3 RSR de Carrera, Audi R10 TDi de Superslot, Pagani Zonda F2005 de MBSlot, Pescarolo C60 de Le Mans Miniatures y un interesante reportaje de investigación sobre los amortiguadores en Slot.
En esta revista también se incluye un avance, en exclusiva, de las principales novedades que se van a poder ver en la Feria de Nuremberg. El resultado del concurso COCHE DEL AÑO, con todos los modelos premiados, la segunda entrega gratuita del Diccionario Técnico del Slot y las secciones habituales completan esta revista del mes de febrero.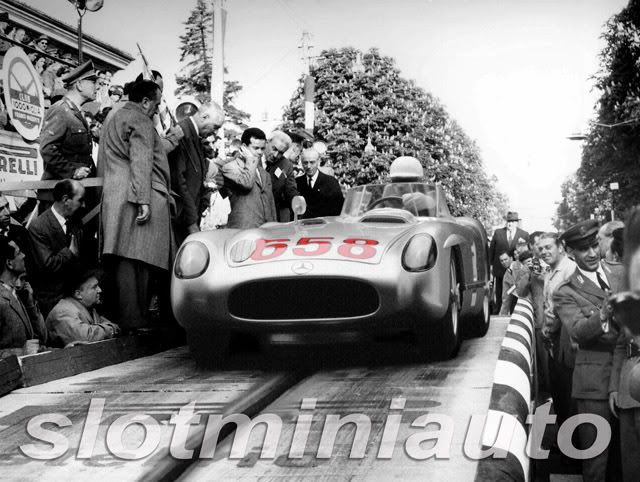 PRESS RELEASE
SLOT MINIAUTO 40 – FEBRUARY 2008
The new Porsche 550 Spyder Panamericana of Ninco is the cover protagonist of February next to the Scalextric Mercedes Benz 300 SLR.
In this issue can be found the track test of the Carrera Opel Commodore "Jumbo" and Porsche 911 GT3 RSR, Audi R10 TDi of Scalextric, MBSlot Pagani Zonda F2005, Pescarolo C60 Le Mans Miniatures and an interesting investigative report on the shock absorbers in Slot.
The magazine also includes an exclusive advance, of the novelties that are going to be able to see at the Nuremberg Toy Fair.
The results of the contest CAR OF THE YEAR, with all the category winners, the second free chapter of the Technical Dictionary of Slot and the usual sections, complement this February magazine.