Photos from REH Distributors today of the MB Slot Zonda kit.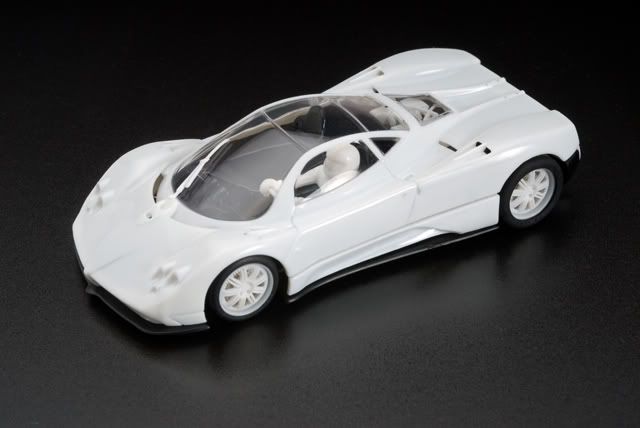 The first version of the Pagani Zonda F 2005 of MB SLOT (Art. A0701), a white kit with the small parts of the body shop from to climb on for facilitating the personalization of the livery.
Chasis with support motor with suspensions in three points (Art. 19111 kits suspensions), or the possibility to fix it with three screws (Art. 19300 or Art. 19301 Kit screws)
Motor SONG-NA (Art. 07009) with pinion from 9 T, 21000 rpms with a big magnetic strength and power motor.
Crown from 26 T (Art. 17026) with crown separated by guide I plant with trees motor in ergal.
The fixing of the motor on the support motor is very simple, fast and sure, with two screws from the part of the pinion.
The car has sold with support motor in line, but from on January 15 it will be in commerce the chasis and the support motor anglewinder (Art, A0719 chasis Art. A0721 support) for motor to long box, that with a particular adapter (Art. 07030) it will allow of to also climb on motor to short box either in line that anglewinder.
Axle in steel from 3/32" from 54 mm.
Bearing in bronze (Art. 0732) or the possibility to replace her with balls bearinga (Art. 07020) for axles front and axles rear.
Front axle has climbed on on a support independent from the chasis and fixed on the same with 4 screws or the possibility to replace her with 4 suspensions, to improve and to regulate to liking the position of the front axle.
Pick up (Art. 17030) with screw and advanced blade and modeled.
4 wheels in plastics with passing hole, hub, disk brake in fotoincisione and pliers of the brake applied.
4 tires in natural rubber from the low profile.
On the chasis and on the support motor I have a lot of points to position of magnets in neodidmio, (5x3 mms).
The cables of the motor, can pass through the support motor, and under the support of front axle, in way from not to be of obstacle in the assemblage of the body.
The body has fixed on the chasis in 3 points, very light and flexible, still more replacing the base of the pilot and the glasses of the cabin with the kit in lexan (Art. A0733).
This version they will follow varied version with body pre paint with some limited editions, very particular.