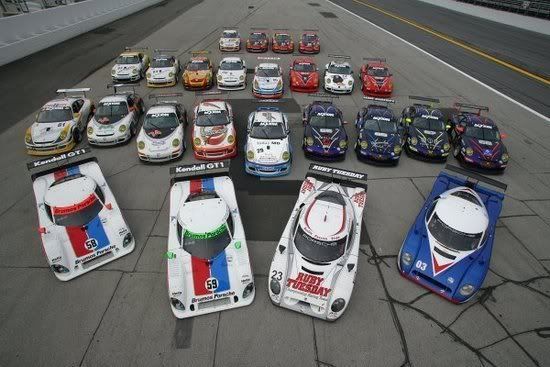 Photo and news used with permission of Porsche Motorsport. No use of this news or photo without their permission.
Twenty-eight Porsche race cars – four Daytona Prototypes powered by Porsche and 24 Porsche 911 GT3 Cup racers – got together for an early-morning group photo today at the Daytona International Speedway in preparation for the first practice session for Saturday's Rolex 24 Hours at Daytona.
Two of the cars – the DP class #58 Brumos Racing Porsche Riley of Darren Law/David Donohue/Buddy Rice; and theGT class #67 TRG Porsche 911 GT3 Cup racer of Romain Dumas/Spencer Pumpelly/Bryan Sellers/Tim George, Jr.- were fastest in their class after the first two-hour session on Thursday morning.
DAYTONA BEACH, Florida – January 24 – The field for the Rolex 24 Hours at Daytona attacked their first qualifying session Thursday – a short, but competitive 15-minute stint around the famous 3.56-mile oval/road course combination – and no clear favorites emerged for Saturday's grueling event.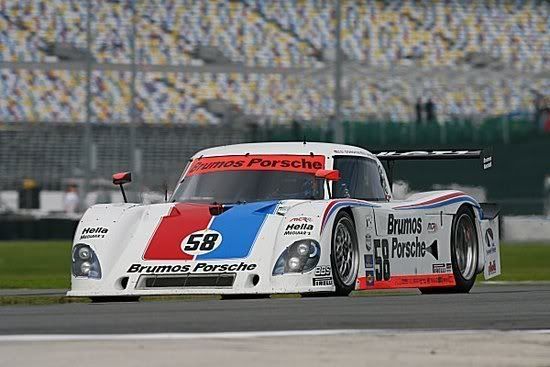 The #58 Brumos Racing Porsche Riley, driven by David Donohue, Darren Law and Buddy Rice, was the highest qualifying Daytona Prototype Porsche (seventh) in a session which locked in the top 30 overall starting positions. The #23 Ruby Tuesday Alex Job Racing Porsche Crawford, with Bill Auberlen, Joey Hand, Andy Wallace, and Patrick Long on board, qualified 12th, while the other Brumos Racing Porsche Riley, the #59 car, driven by Joao Barbosa, Hurley Haywood, Terry Borcheller, and J.C. France, will start 17th on the DP grid.
In the GT class, a four-manufacturer battle is brewing between Mazda, Pontiac, Ferrari and Porsche, with each car company placing a car in the top positions of the class grid. A Mazda RX-8 (Ham/Trembley/Haskell/Matos) has grabbed the pole, with the #67 TRG Porsche 911 GT3 Cup of Emmanuel Collard/Romain Dumas/Tim George, Jr./Spencer Pumpelly/Bryan Sellers second and Orbit Racing Porsche 911 GT3 Cup (Mike Fitzgerald/Johnny Mowlem/Tom Papadopoulos/Lance Willsey) third.
The #81 Synergy Racing Porsche 911 GT3 Cup, with Porsche factory driver Richard Lietz at the wheel, crashed in the morning practice session, and the subsequent major repairs caused the car to miss the rest of the day's sessions, including qualifying. The rest of the field – positions 31 to the end – will qualify on Friday.