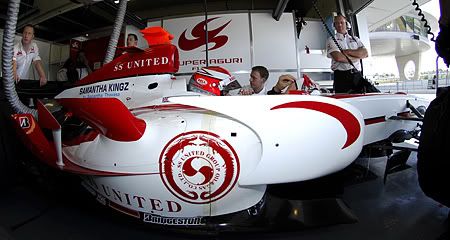 TEST REPORT, JEREZ – Day 1
Date: 19 June 2007
Duration of test: 3 days
Driver Day 1: James Rossiter
Chassis: SA07-05
No. of Laps: 76
Best Lap Time: 1:20.926
Weather: Warm and sunny
Temperatures: Air: 22-27°C, Track: 27-41°C
SUPER AGURI F1 TEAM commenced its three-day test at the Jerez circuit in Spain to continue preparations for the forthcoming mid-calendar rounds of the 2007 Formula One World Championship.
The conditions were warm and sunny throughout the day. James spent the morning finding a good set-up on a fairly low grip track. With a satisfactory balance found, and the track slowly improving, he ran through various chassis set-up options to complete a total of 76 laps for the day.
Drivers: Christian Klien
Having just completed the back-to-back Grands Prix weekends in Montreal and Indianapolis,
the Honda Racing F1 Team
returned to the test track today at the Circuit de Jerez in southern Spain, to prepare for the forthcoming European races.
Christian Klien conducted an installation day today to shakedown a number of new mechanical parts. The test proper gets underway tomorrow when Jenson Button will spend two days conducting a more detailed evaluation of the new mechanical and aerodynamic parts for the Honda RA107 car.
Weather conditions for this opening day were warm and sunny. The circuit had relatively low grip in the morning session due to a motorcycle event held over the weekend but the track surface did improve throughout the day.
Christian's programme for this opening day was running through various electronic controls settings and completing a number of race start simulations. He completed 77 laps over the course of the day.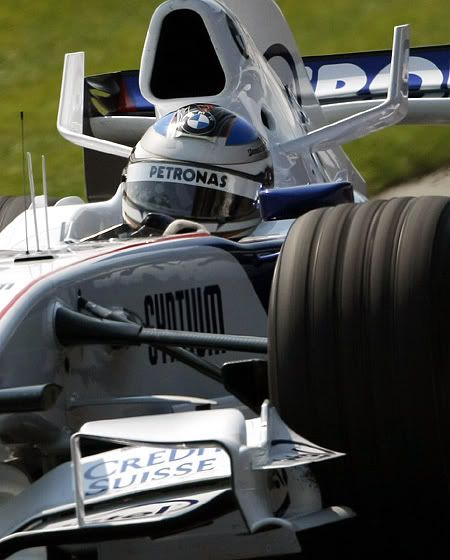 Silverstone-
19th - 21st June 2007
Day one - Tuesday
Weather conditions: Partly cloudy
Temperatures: Air: 21-24°C, Track: 24-32°C
Number of cars participating: 9
Fastest lap overall (track length: 5.141 km): Ralf Schumacher (Panasonic Toyota Racing), 1:22.794 min
Nick Heidfeld
Chassis / engine: BMW Sauber F1.07-06 / BMW P86/7 V8
Test kilometres today: 205 km (42 laps)
Fastest lap: 1:23.841 min
Programme:
Nick worked on the set-up for the Silverstone race. He mainly tested tyres and some new aero and mechanical components that showed promising results. He completed 42 laps, but finished the test one hour before planned due to a slight back pain.
What comes next:
Timo Glock will take over driving duties from Nick tomorrow and will continue working on the set-up for the forthcoming races as well as evaluating the new components.
News and photos used with permission from Super Aguri(copyright 2007 Sutton Images) and BMW Motorsports.
Formula 1
f1
ferrari
motorsports