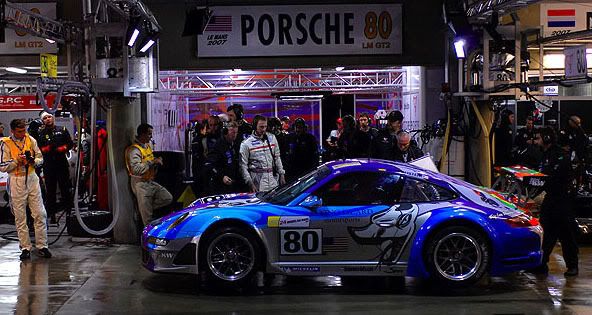 June 17, 2007, 1:30 am CET -- Le Mans, France -- The Flying Lizard Motorsports No. 80 Porsche has been retired from the 2007 24 Heures du Mans after ten hours, due to a mechanical driveline failure that could not be repaired.
During the ten hours on track, the No. 80 Porsche demonstrated that it could be the fastest car in GT2 with first Johannes van Overbeek and then Joerg Bergmeister setting the fastest GT2 lap times.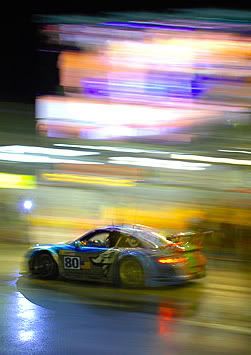 At the six-hour mark, Joerg had moved up to second position, when the rear wing collapsed, requiring a set of pit stops to repair. The time lost pushed the team back to sixth. Seth Neiman maintained position during his second stint, turning the car over again to Johannes for his third stint. For details on the team's progress for the first 9 hours, read the Eight Hour Update and the Five Hour Update.
Nine and a half hours into the race, Johannes was moving back up the field and was fifth in GT2 when he reported that he had lost sixth gear. He was able to drive directly into the garage and the crew removed the transmission to diagnose the problem. By ACO regulations, teams may not replace an entire transmission, but only the transmission's internal components. It was determined that the problem could not be repaired and the car was retired.
Prinicipal Seth Neiman said, "We've had a difficult few days -- a number of small and large problems have challenged the team since the test day. Today, the crew's great work had kept us within a few laps of the leader, and we were clearly still in the hunt with more than 14 hours to go. It will take a while for everyone to realize that this was just something that we couldn't overcome.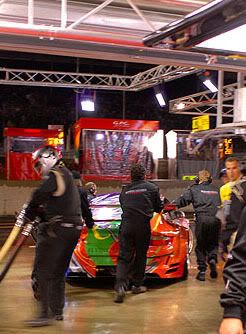 We are disappointed, but now need to refocus ourselves on our next ALMS race at Lime Rock."
Up next for the Lizards is the sixth race of the 12-race ALMS season, the American Le Mans Northeast Grand Prix on July 7th at Lime Rock Park.
News and photos used with permission from Flying Lizard Motorsports. Photos copyright Bob Chapman, Flying Lizard Motorsports, no reuse for any reason.