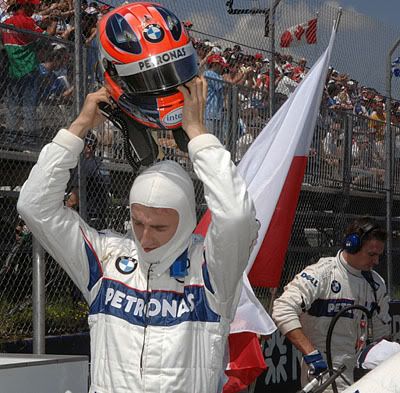 Kubica puts on helmet prior to the start of the race. BMW image.
MONTREAL, June 10 (Reuters) - Poland's Robert Kubica was reported to be conscious and stable after suffering a huge crash in Sunday's Canadian Formula One Grand Prix.
The BMW Sauber driver was taken to the circuit medical centre and then on to a hospital in Montreal after being extracted from the wreckage of his shattered car.
The Pole's manager Daniele Morelli said Kubica was conscious and in good spirits.
"I talked to him...my impression is that he's fine. He was giving indications to the doctors about his general state," he told Britain's ITV television. "I saw him well. He talked to me almost normally, so that's a good sign."
Kubica, 22, made contact with a Toyota on the approach to the hairpin on lap 27 and his car took off, flying through the air and slamming into a concrete wall at high speed before barrel-rolling across the track.
The shattered car, with three wheels ripped off, then skidded to a halt on its side. The safety car was deployed as track doctors attended to the driver.
-------------------------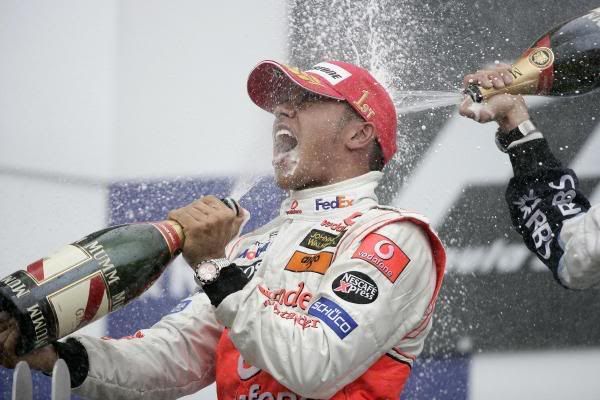 2007 CANADIAN GRAND PRIX
Vodafone McLaren Mercedes driver Lewis Hamilton won the Canadian Grand Prix in Montreal and took his maiden Formula 1 victory. After 70 laps with four Safety Car periods, Lewis won 4.3 seconds ahead of Nick Heidfeld and Alexander Wurz. Fernando Alonso ended up seventh following a 10 second stop-and-go penalty. Both drivers were on two-stop strategies. Lewis came in on laps 22 (9 seconds) and 48 (6 seconds) whilst Fernando made his stops on laps 23 (7.8 seconds) and 53 (5.7 seconds). Fernando set the fastest lap of the race with a time of 1m16.367 on lap 46. In the Drivers' World Championship, Lewis took the lead with 48 points ahead of Fernando with 40 points. After six of the season's 17 races, Vodafone McLaren Mercedes heads the Constructors' table with 88 points ahead of Ferrari on 60.
LEWIS HAMILTON
"I'm on another planet after this – I simply can't find the words to describe what it feels like to win my first Formula 1 race. The team has done a fantastic job and I'm so happy to be part of the Vodafone McLaren Mercedes family. I made an OK start off the line – nothing spectacular but managed to get a good exit out of the first corner and whilst mayhem was happening around me I was able to keep my cool and focus. Obviously I'm pleased that my good friend Robert is OK after his accident. It seemed like every time I opened up a bit of a gap the Safety Car came out and I had to start all over again. It was only a few laps from the end I realised that victory was within my grasp and I started noticing things like the fans cheering and when I crossed the finishing line it was amazing. I now have to stay focused and keep up the good work. It's been an incredible start to my Formula 1 career so far but I know there is a tough season ahead of us. Finally thanks to the entire team at McLaren and Mercedes-Benz for all the hard work they have put into the car – it's an absolute pleasure to drive and be part of such a winning combination."
News and photo used with permission McLaren.com
BMW image
--------------------------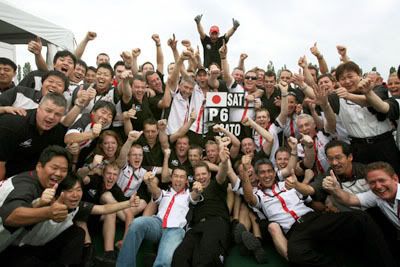 The Super Aguri Racing F1 Team team celebrate sixth position for Takuma Sato (JPN) Super Aguri F1 Team. Copyright 2007 Sutton Images, used here with permission from SuperAguri.com, no reuse for any reason.