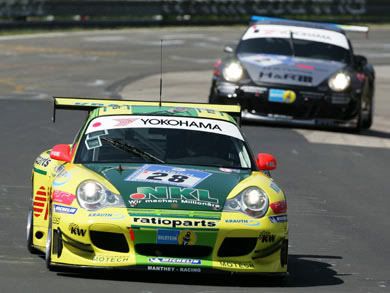 A total of 31 Porsche race cars roll to the start of the 35th running of the 24 hour race on the Nuerburgring on 9th June. With this, Porsche is one of the most popular marques at Germany's largest motorsport event. And one of the quickest: the Manthey Racing team returns as title defender with a 911 GT3 RSR. Also amongst the favourites for overall victory are the Land Motorsport squad and a pack of competitors running Porsche vehicles.
With a Porsche 911 GT3 RSR in the latest spec (382 kW/520 hp), team principal Olaf Manthey is eager to repeat last year's victory. Alongside title defender Timo Bernhard, two of his works driver colleagues, Romain Dumas and Marc Lieb, take the wheel of the Weissach-developed and built GT racer. The fourth pilot is Marcel Tiemann, who belonged to the victorious team last year. "We are well prepared for the race. Our win last year of the Nuerburgring Long Distance Championship gives us extra motivation to claim the victory again. But the competition this year is incredibly tough," analyses Timo Bernhard, who normally shares driving duties with Romain Dumas at the wheel of a Porsche RS Spyder run by the Penske Motorsports team in the American Le Mans Series. Manthey Racing, with its headquarters in Meuspath a stone's throw from the 'Ring, fields a four-car team this year.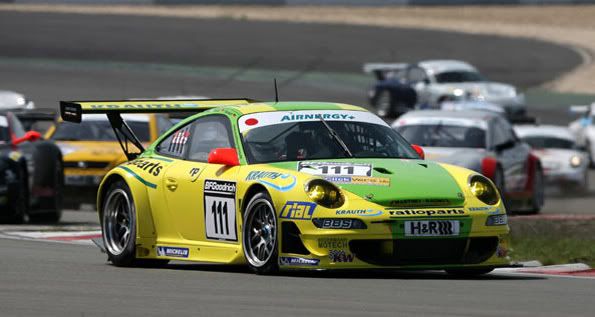 Having already claimed three victories in the Nuerburgring Long Distance Championship, the Land Motorsport team, based near the German town of Siegen, has proven the speed and reliability of the Porsche GT3 RSR lap after lap on the Nuerburgring Nordschleife. With Marc Basseng, Marc Hennerici, Dirk Adorf and Frank Stippler four of the top Nordschleife experts man the Porsche cockpit.
Konrad Motorsport has also signed on a strong driver contingent for its Porsche GT3 RSR with pilots Patrick Huisman, Wolfgang Kaufmann and Dennis Rosteck. Paragon AG team entered Pierre Kaffer, Joerg Hardt, Patrick Bernhardt and Klaus Frers for its 911 GT3 RSR.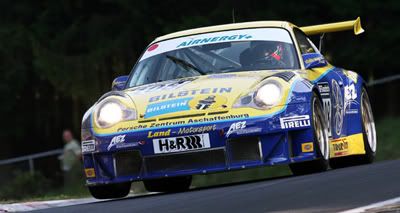 The Porsche squad to have travelled the farthest is the VIP Petfoods team with drivers Tony Quinn, Klark Quinn, Craig Baird and Kevin Bell who regularly contest the Carrera Cup Australia. With the same line-up last year, the quartet saw the chequered flag in ninth position overall racing a GT3 RSR. With a new GT3 RSR the team is hopeful for overall victory this year. "Of course you need a bit of luck over such a long distance, but with the new Porsche GT3 RSR we definitely have a winning car," says team boss Tony Quinn.
The 35th edition of the Nuerburgring 24 hour race gets underway on 9 June 2007 at 3pm with the flag dropping on 10 June 2007 at 3pm.
News used with permission from Porsche.
motorsports
Porsche
LeMans
news
Nurburgring