June 3, 2007
--
Le Mans
,
Fr
an
ce
-- The Flying Lizard squad completed a successful test at Le Mans today, clocking the third fastest time in GT2 of 4:02.668 on the 8.5 mile Circuit de la Sarthe. The three fastest GT2 cars in today's session were all Porsche 911 GT3 RSRs: the No. 76 IMSA Performance Matmut had the fastest lap time of 4:01:598 and the No. 93 Autorlando Sport Porsche second with 4:02.192. Overall, it was a positive day for the Lizards and happily, an uneventful one for the entire GT2 class.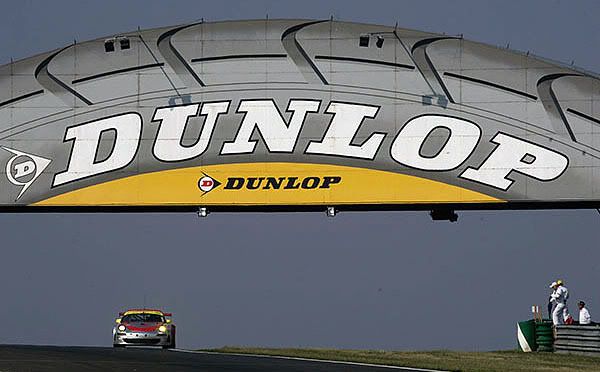 The day-long test consisted of two four-hour sessions, starting at 9 am local time. At the start of the morning session, the course, which comprises both a permanent race track and public roads, was dirty and full of debris. Most of the teams went out on hard tires, with some teams waiting to go out until the track was a bit cleaner and had more grip. The Lizards headed out around 9:30 am, with Johannes van Overbeek at the wheel. Throughout the morning, van Overbeek and co-drivers Joerg Bergmeister and Seth Neiman cycled through the No. 80 Porsche. "The track came up to speed faster than we had expected," said van Overbeek. "I was able to go out just after the session started and spent my first stint just doing install laps -- ensuring that all was well with the car and getting reoriented with the track."
After the hour-long midday break in which the crew made some suspension adjustments, engineers Craig Watkins and Stefan Pfeiffer were finally able to move from shakedown to progressing on setup. "Today is setup day. Unlike the ALMS races, in which we have multiple practice sessions over several days to work on setup, here we get one long test day." said Watkins. "With a long, varied, and high speed track like Le Mans, getting to the right combination of good straightaway speed and aero grip in the car is a balancing act. Things went well today for us -- the car was fast right out of the gate and had a productive day. We still have a lot of work to do, but it's definitely a good start."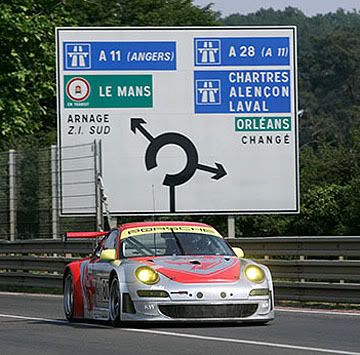 2007 will be the Lizard's third race at Le Mans. Since the 2006 race, improvements have been made to the track and in the paddock. Joerg Bergmeister commented, "It's quicker coming out of Tetre Rouge and smoother. Arnage is a bit quicker on the exit. The concrete change going into the Porsche curves seems to have made it a bit bumpier, but the repaving from the Dunlop bridge to the Mulsanne has added some speed." Team manager Eric Ingraham added, "We are definitely seeing faster times this year than last year -- in part due to the track changes, I'm sure. I expect you'll see a record pole set this year during qualifying on race week."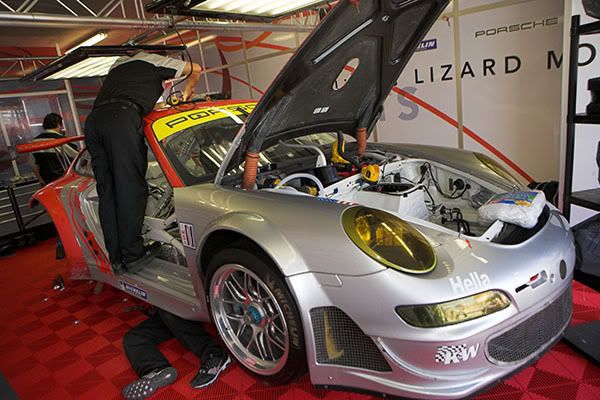 Following the Lizards during Le Mans Race Week
The 24 Heures du Mans begins on Saturday June 16 at 3 p.m. CET (6 a.m. PT). Follow the Lizards' progress, starting on June 11 of race week:
*
Listen to team radio transmissions
*
View images
*
Read the team blog
* Listen to Radio Le Mans, available at 91.2 FM locally in Le Mans and streamed online at
www.radiolemans.com
* Watch MotorsTV in Europe, and SpeedTV in North America. MotorsTV will air week-long coverage and SPEED coverage begins at 5:30 a.m. PT on June 16.
News used with permission of
Flying
Lizard
Motorsports. No reuse withouth their permission.


Succès total du Flying Lizard durant la journée test des 24 heures du Mans
Le Flying Lizard à terminer avec brio la journée de test des
24 heures du Mans
en signant le troisième temps de la catégorie GT2 sur le circuit de la Sarthe en 4'02''668. Les trois voitures les plus rapides de la catégorie GT2 sont toutes des Porsche 911 GT3 RSr : Le meilleur temps à été signé par la N°76 du team IMSA Performance Matmut en 4:01:598, puis la N°93 du team Autorlando Sport Porsche en 4:02.192.
La journée test des 24 heures du Mans se partageait en deux sessions de 4 heures. La première débutait à 9h00 sur une piste sale tout le long de la portion de route ouverte habituellement à la circulation, c'est pourquoi la plupart des équipes étaient sorties en pneus durs, pendant que les autres attendaient que la piste devienne plus rapide. C'est au alentour de 9h30 que la Porsche du Flying Lizard a pris la piste avec à son bord, Johannes Van Overbeek.Pendant toute la matinée, les 3 coéquipiers, Johannes Van Overbeek, Joerg Bergmeister et Seth Neiman se sont relayés au volant de la numéro 80 afin de prendre contact avec les nouveaux aménagements du circuit. « La piste est beaucoup rapide que nous le pensions » a déclaré Johannes Van Overbeek « durant mon premier relais, j'ai surtout pris le temps d'analyser le circuit et la voiture tour après tour. »
Après cette première session matinale, le staff technique à profiter de la pause du midi pour opérer quelque réajustement de suspension. Les ingénieurs Craig Watkins et Stefan Pfeiffer également profiter de cette pause pour faire un shakedown de l'auto et ainsi parfaire le setup général. « Aujourd'hui était une journée de test au niveau des réglages de l'auto. À la différence des courses ALMS où nous avons plusieurs sessions d'essai dans la semaine précédent la course, ici au Mans, tout est regroupé en une seule et longue journée. » déclara Craig Watkins. « Sur un circuit aussi exigeant que celui des 24 heures du Man, où le tracé est long, varié et les vitesses très rapides, trouvé le bon compromis de réglage est un jeu d'équilibriste. Les choses se sont très bien déroulées aujourd'hui pour nous, et la journée a été très productive. Même si la voiture est déjà très rapide, nous avons encore beaucoup de travail, mais c'est sans conteste un bon début. »
En 2007, le tracé du circuit des 24 heures à subit quelques changements et différentes modifications, Joerg Bergmeister nous les commente: "Le virage de Tetre Rouge est maintenant beaucoup plus rapide qu'avant et moins prononcé. La section d'Arnage est un peu plus rapide en sortie. Le changement le plus marquant est à l'entré des virages Porsche, car la piste semble un peu plus bosselée qu'avant. Au Dunlop et à Mulsanne, le changement de revêtement a amélioré la vitesse de passage." Eric Ingrahm, le team manager: « Les temps au tour sont plus rapides que l'an denier en raison des évolutions apportées au tracé. À mon avis nous allons voir cette année un nouveau record du tour pendant les qualifications. »