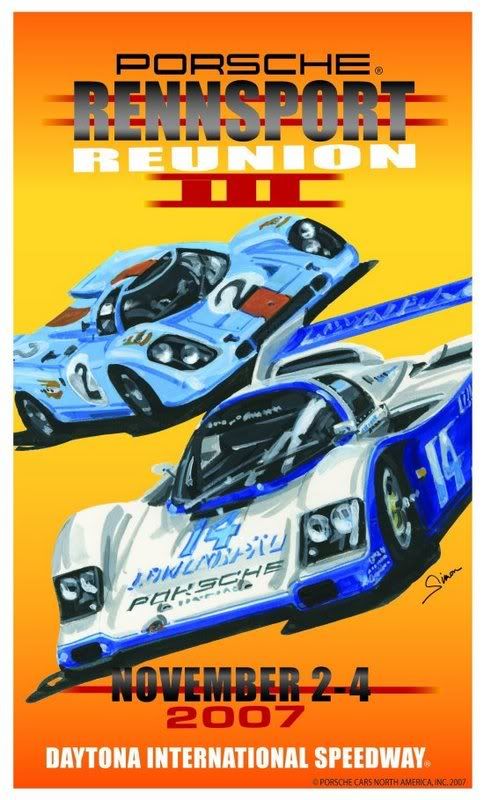 No less than 20 thundering Porsche 917s and approximately 30 Porsche 956/962 prototypes plus the famous drivers who drove these legendary models to victories around the world top the first entries for the November 2-4, 2007, Porsche Rennsport Reunion III at Daytona International Speedway in Florida.
Sponsored by Porsche Cars North America and organized by Brian Redman's Intercontinental Events, Inc., Porsche Rennsport Reunion is held every three years. It is open to the public and brings together an unprecedented gathering of significant Porsche vintage and current racecars and famous Porsche race drivers. It features a three-day program of on-track competition plus a concours d'elegance, which is open to the event's participants by invitation. In addition, special activities are planned including, for the very first time, a Porsche model car contest and a Porsche motorsport memorabilia swap meet, as well as events commemorating the awesome Porsche 917 and the 25th Anniversary of the racing debut of the all-conquering Porsche 956/962 prototypes.
Coupe Porsche 917s expected to appear at Porsche Rennsport Reunion III include the actual or similar 917/Ks that were victorious in such races as the Rolex 24 at Daytona, the 24 Hours of Le Mans, and the 12 Hours of Sebring; the elegant 917 Long-tail; and the striking one-of-a-kind 917/20 "Pink Pig." Spyder 917s slated to be in the field include SCCA Can Am championship-winning twin-turbocharged 917/10s and 917/30s as well as earlier non-turbocharged versions of one of the world's most powerful road racing cars.
Porsche 917 drivers who will attend include Richard Attwood, Vic Elford, George Follmer, Hurley Haywood, Willy Kauhsen, Charlie Kemp, Gerald Larrousse, Rudi Lins, David Piper, Brian Redman, and Gijs van Lennep.
The large field scheduled to celebrate the "25th Anniversary of the Porsche 956/962" includes an equally famous group of Daytona, Le Mans, and Sebring winners plus the very first 962 ever built.
Porsche 956/962 drivers expected to attend include John Andretti, Derek Bell, David Hobbs, Bruce Leven, Jochen Mass, John Morton, Bobby Rahal, and Chip Robinson.
Porsche Rennsport Reunion III's featured 917 and 956/962 cars will take part in unique commemorative races, parade laps, and concours d'elegance classes. Their drivers will participate in a special autograph session with proceeds donated to an appropriate charitable organization.
Additional details of the Porsche Rennsport Reunion will be published on Porsche's press web site (www.press.porsche.com), Brian Redman's Intercontinental Events web site (www.rennsport2007.com), and Daytona International Speedway's web site (http://www.daytonainternationalspeedway.com/), as they become available. Ticket information is available by contacting Daytona International Speedway at 1-800-PITSHOP.
News used with permission from Porsche Motorsport.
Porsche
Rennsport
Daytona