JLG Announces Release of Toucan Mast Boom Lift Die-Cast Model for 2007
Toucan Model 1210 / E33MJ Is Latest JLG Replica to Hit the Market This Fall

McConnellsburg, Pa., -- JLG Industries, Inc., a subsidiary of Oshkosh Truck Corporation [NYSE: OSK], announced the release of its Toucan Model 1210 (E33MJ in U.S.) 1:32-scale die cast model replica. Having recently announced the release of two versions of its ATLAS II Telehandlers as die-cast models, JLG will manufacture and release the high-quality, rugged die-cast design of their innovative mast boom this fall.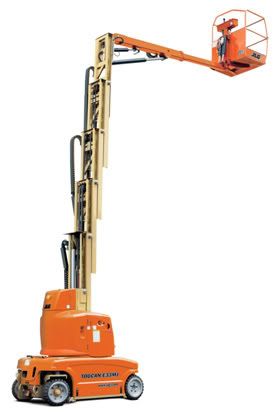 Featuring JLG's unique "Lift & Lock" technology, the mast and jib on the 1:32-scale die-cast version of the Toucan will allow multiple-height positioning of the work platform to heights over thirteen-inches (13") tall. Highlighting the realism and functionality of the full-size mast boom lift, the design of this die-cast replica is enhanced with multi-directional front moving wheels, as well as, a three-hundred sixty-degree (3600) rotating turret utilized for maximum flexibility and unmatched positioning capabilities.
The replicas of the Toucan feature over 20 fully-functioning parts that allow them to: roll forward and backward; lift and extend the boom arm; and also rotate or move the grey, non-marking rubber wheels into various steering modes. Delivered in high-quality retail packaging, the Toucan Series mast boom exhibits outstanding baked enamel paint in JLG's corporate orange and crème color scheme with authentic product decals to complete an impressive die-cast model replica.
According to JLG's Director of Marketing and Market Development, David Baxter, "The accurate scale and true functionality of these Toucan Series die-cast replicas demonstrates our 'attention-to-detail' built into in every product we make. We are excited to provide another great addition to our scale model collection for this year."
As a narrow-aisle machine, the Toucan Series mast booms are small enough to drive through congested factories yet deliver the strength and power to work up and over heavy machinery on job sites. Popular in Europe, the JLG Toucan Series is true cross-over machine offering the maneuverability of a scissor lift with the outreach of a boom lift. The Toucan Series joins JLG's 1250AJP, 860SJ and Tow-Pro T350 to complete a full lineup of die-cast model booms offered to collectors by JLG in 1:32nd scale.
JLG's die-cast scale models are available through dealers around the world. Additional information regarding the entire group of JLG die cast model replicas can be found by going to
www.jlgmerchandise.com
. For JLG Gear and die cast model product sales inquiries or other opportunities, please contact Joyce & Associates Nevada by calling 702-294-1712.
JLG Industries, Inc. is the world's leading designer, manufacturer and marketer of access equipment. The Company's diverse product portfolio includes leading brands such as JLG aerial work platforms; JLG, SkyTrak, Lull and Gradall Mobile Stock Pickers; and an array of complementary accessories that increase the versatility and efficiency of these products. JLG is a subsidiary of Oshkosh Truck Corporation [NYSE: OSK].
For more information about JLG Industries, Inc., log onto the company website at
www.jlg.com
.