Yes it works! I ordered a pack of Ninco high fences from long-time friend Gene who owns
Slot Car Place
and he hooked me up with some fencing at a great price. I wasn't totally sure it would work since I had no idea if the hooks that go over the edges of the track would be the right depth for Carrera track because after all, this is made by Ninco and you never know if crossing brands will work for much of anything, but in this case it does!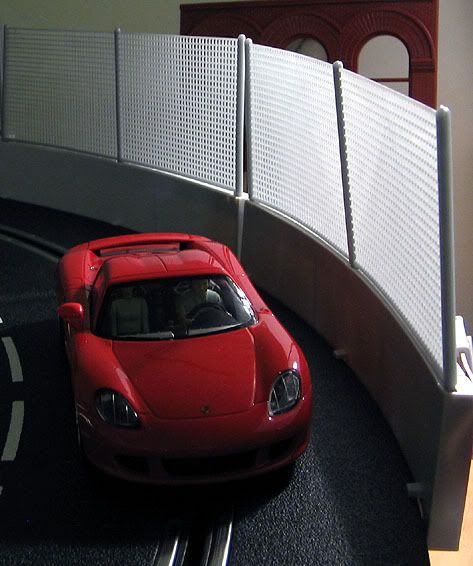 So I snapped away and in a short time the fences were in place and I had the look I was going for. The theme of the plastic track is "The Bay Bridge", as in the Bay Bridge in San Francisco. My wood track's theme is the Embarcadero, which is the street in San Francisco that runs along the bay and meets the Bay Bridge. It's one of my favorite places in the city that I used to live in briefly. So I've been trying to piece together, in my mind, what the area around a bridge on/off ramp looks like. And big high chain link fences came to mind, so these Ninco fence pieces fit the bill!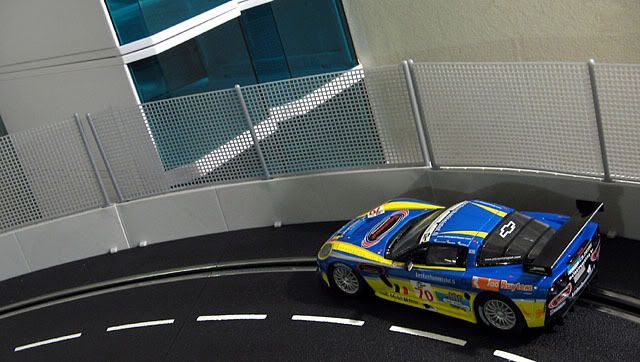 I know this is as much an update on my personal track as it is a rather brief review but what else is there to say? The pieces fit together well, they're nicely molded, they're easily assembled...they work on Carrera track too!
Done!
DaveK
...and visit
Slot Car Place
for a reasonable price on slot-stuff!