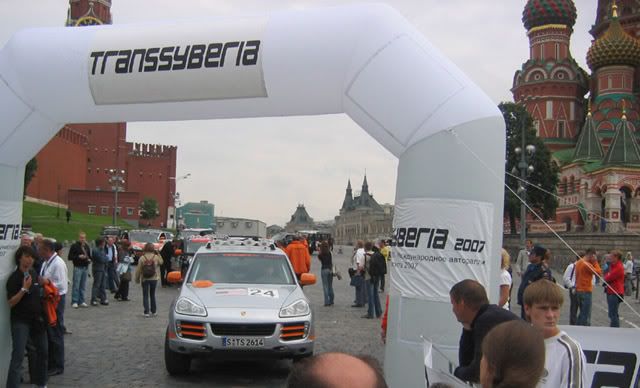 MOSCOW, August 3, 2007 --- The days of preparation and anticipation ended today when the first car, a 2008 Porsche Cayenne TransSyberia of last years' winner and Porsche engineer Juergen Kern, rolled through the starter's arch in front of the ancient walls of The Kremlin, under the watchful eye of the famous St. Basil's Basilica. The three-Cayenne team that comprises "Team North America," entered by Porsche Cars North America, started 17th, 20th and 24th.
A police escort led the competitors into Red Square from their overnight "parc ferme" several kilometers away. While this short controlled trip had been intended as an opportunity to calibrate the necessary satellite navigation system, it highlighted the fact that all will not be easy, even with the latest in electronic global positioning equipment.
"We didn't acquire the satellite until the very end, due to the soupy weather conditions," Richard Kelsey, co-driver of the USA 1 Cayenne TransSyberia of the three-car North American Team. "For those who had any doubts, it showed straight away just how important a good route book still is, even in this day and age!"
The three Cayennes from Porsche Cars North America are be among the entries to head for the Steppes of Russia, the challenging foothills of the Urals and the fearsome Gobi Desert in this true contest of man and machine versus nature.

After the opening ceremonies were completed, the eclectic group of vehicles were lined up in numeric sequence for the 11:00AM start. And while there will be several Cayennes in the field, there are many worthy cars and competitors that will have to be overcome.
"There are at least a half dozen former rally winners, and series champions in this group," said Rod Millen, a former North American, Asia-Pacific and New Zealand - series Rally champion. "You've got Armin Schwartz who I've not only rallied against but literally run into a few times at the Baja 1000," he added with a chuckle. "And there are guys like Rene Metge, who has won Paris-Dakar a couple of times, and was our team mate Kees Nierop's co-driver at Le Mans one year in a factory 961. Overall, it's a pretty darn good field, I'll say."
In addition to the 2008 Cayenne TransSyberias, there are also a few 2006 Cayennes and an eclectic array of other competitor vehicles. "As an automotive journalist, this is a real treat to see some of these vehicles for the first time," said Laurance Yap, co-driver of Canada 1 and an award-winning Toronto-based writer and photographer.
"There are several interesting Suzuki's in the under 3-liter class; a couple of Merceds-Benz's – a 250 GD and an ML350; a couple of Land Rovers a Land Cruiser and even a SsangYong Rexton, which looks like a 'mini - Benz'. But the most interesting is the historic Porsche 'African Safari' 911 from the early 1970's. That is a classic and it is really cool!"
Sent off at 30-second intervals, the vehicles will head out of Moscow for their first stop in the city of Vladimir. "It will be fairly treacherous for us, much more than you might think," said Paul Dallenbach, co-driver of the USA 2 Cayenne TransSyberia. "While it is all street driving, we have a very hard time reading the traffic signs as they are all in Russian, and therefore in a much different alphabet than we're used to. I'm glad we have the route book and the satellite navigation system sorted out or else we'd be in trouble right off the bat."
"Traffic is no picnic around here," said Kees Nierop, driver of the Canada 1 entry. "It is very congested in spots in and around Moscow – we've seen that already in our few days here. It's going to be new and different challenges every inch of the way from here to Mongolia."
"We were all touched that Peter Schwarzenbauer (PCNA president) took the time to wish us 'good luck' last night. We each received his e-mail and Team North America is going to do its best to bring home a victory!" Nierop added.
The three Porsche Cayennes of Team North America departed Moscow and set out on the 4,412-mile (7,100km) TransSyberia route, reaching the finish line on August 17th in Mongolian capitol of Ulaanbaatar. Updates on Team North America's progress can be seen on the Porsche web site www.andy-please-check-the-exact-URL.com
Stage One Report
A late call from USA #2 team driver Jeff Zwart has reported that all the North American teams have successfully completed the first stage Monday night, from Moscow to Vladimir, but it was no easy task. Canadians Kees Nierop and Laurance Yap are running fourth overall, with Zwart and Dallenbach sixth and Millen/Kelsey 14th.
"The first stage was sandy and rough – perfect for testing the limits of the Cayenne for both speed and durability. Although there were no real dangerous corners or places to go off, the ruts were very deep and several competitors had broken components by the end of the day," said Zwart.


News used with permission from Porsche Motorsport.