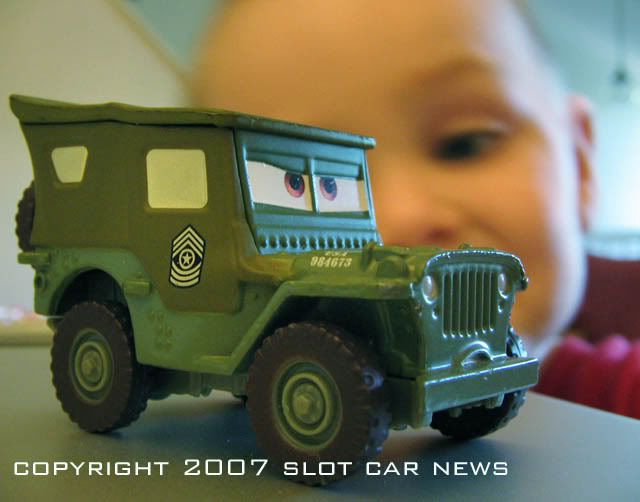 All photos now shown are of our Sarge, which is under recall
*** UPDATE 2:58pm ***
We found our Sarge under the sofa, and what do you know...it's one of the effected cars under the recall! My son loves these cars and plays with them every day, it's upsetting that we have one of these poisonous little Cars in our house.
*** Previous entry***
Now on the surface of it, the recall of Mattel's Sarge diecast might not seem like fodder for a site about slot cars. But since the vast majority (if not all of them) of slot cars are made in china, how long can it be before slotters see their recall of slot cars? There's a lot of secrecy about the production of slot cars in China. In recent months I've learned that many companies slot cars might be made in the same plant. So "brand-X" and "brand-Y" might be made during different production runs
at the same plant in China
. I will be contacting every slot company I have an email address for to comment on the safety of their products and what assurances they have been given that their products are in fact safe.
Please go to the Mattel site for complete information about the recall. I have lifted some of the information to publish here.... it's "fair use" of a breaking news situation so I feel it's appropriate to do so....
Dave Kennedy
Publisher, Slot Car News
________________________________________________
From the Mattel site:

Pixar Cars Sarge Lead Paint Hazard Recall
Mattel, in cooperation with the United States Consumer Product Safety Commission is voluntarily recalling a limited number of the "Sarge" Die Cast toys from the Pixar Cars movie assortments. The affected toys were produced by one specific contract manufacturer during a narrow timeframe.
The recalled Sarge Cars were sold individually and in assortment packs in retail stores nationwide from May 2007 to August 2007. The Sarge character is a small die cast car measuring about three inches in length. The car is an army green color and features a white star on the hood. Surface paint on affected products contains lead in excess of permissible levels.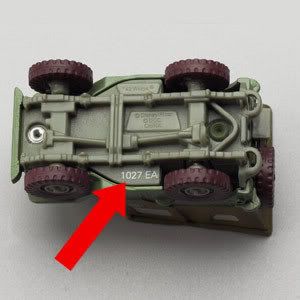 Photo from the Mattel site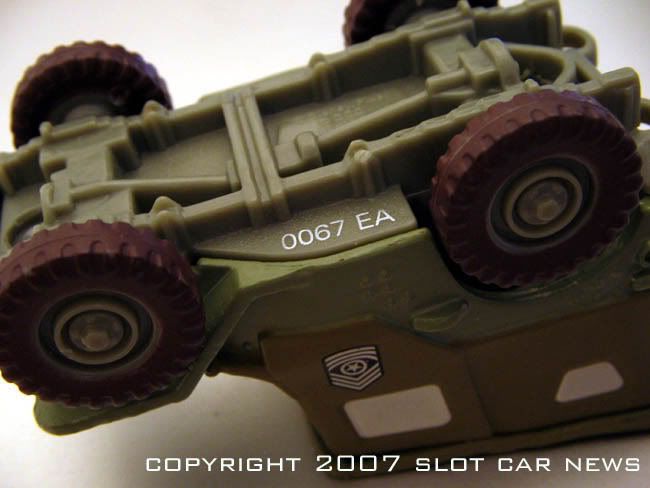 Photo of our Sarge, you can see the "7-EA" suffix which means it's one of the Sarge's for the scrap heap.
EL SEGUNDO, Calif.,

August 14, 2007
– Mattel, Inc. announced today that the company has voluntarily recalled one toy from the "CARS" die-cast vehicle line ("Sarge" character), manufactured between May 2007 and July 2007, containing impermissible levels of lead. The recalled vehicles include 436,000 total toys, including 253,000 in the U.S. and 183,000 outside of the U.S.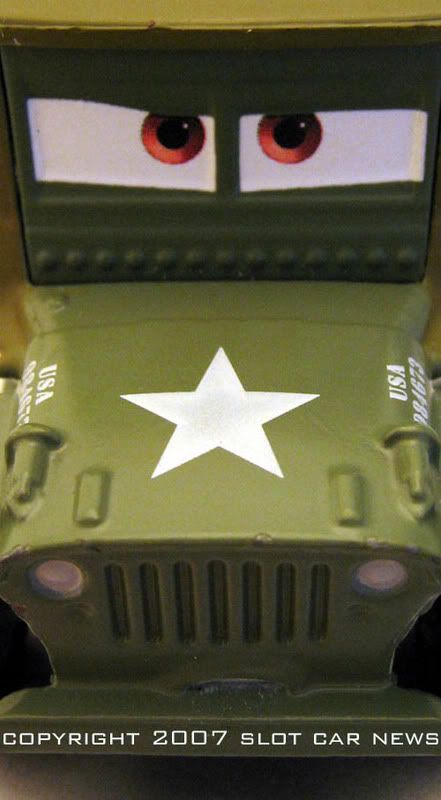 The recall of the Sarge toy results from Mattel's increased investigation and ongoing testing procedures following the recall of select Fisher-Price toys on August 1, 2007. The toy was produced by Early Light Industrial Co., Ltd (Early Light), one of Mattel's contract manufacturing facilities in China, which subcontracted the painting of parts of the toy to another vendor, Hong Li Da (HLD), also in China. While the painting subcontractor, HLD, was required to utilize paint supplied directly from Early Light, it instead violated Mattel's standards and utilized paint from a non-authorized third-party supplier.
Mattel voluntarily recalled 63 magnetic toys sold at retail prior to January 2007. Magnetic toys recalled within the U.S. include 44 Polly Pocket™ toys, 11 Doggie Day Care® toys, 4 Batman™ toys, 1 One Piece™ toy, and the accessory part of 2 Barbie® toys. For additional information regarding the magnetic toy recall, contact Mattel at (888) 597-6597, or visit the company's Web site at www.service.mattel.com.
The Sarge toy from the "CARS" die-cast vehicle line was manufactured between May 2007 and August 2007. For additional information regarding the Sarge toy recall, contact Mattel at (800) 916-4997, or visit the company's Web site at
www.service.mattel.com
.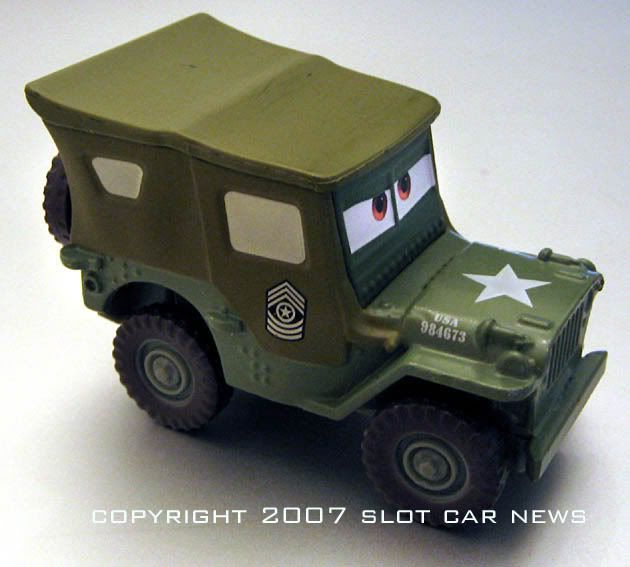 A full list of products is published on the company's Web site at www.mattel.com, as well as by the Consumer Products Safety Commission. Consumers should immediately take these products away from children and contact Mattel to arrange return and to receive a voucher for a replacement toy of the consumer's choice, up to the value of the returned product.
Please read the entire press release at this link.
Mattel recall
Sarge
toys