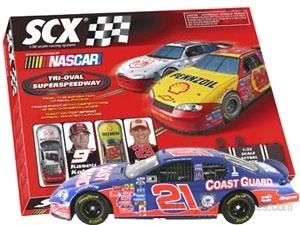 The recently released SCX Kevin Harvick Coast Guard car will be available as a bonus to those that purchase the new NASCAR 2007 Tri-Oval Super Speedway. The set features a 16.11ft banked tri-oval circuit with Dodge & Chevy Nascars.
* Includes: #9 Kasey Kahne Dodge Nascar
* #29 Kevin Harvick Penzoil Chevy Monte Carlo
* FREE BONUS #21 Kevin Harvick Coast Guard Nascar
* 3 standard straights
* 2 cross-over straights
* 6 banked curves
* 4 outer curves
* 1 powerbase w/ AC adapter
* 2 controllers
Photo used from the
Fantasy World Hobbies website
...visit their site for info about this car.