Photo copyright 2007 Van LaPointe
Dindo Capello beat the computer. The Italian sports car ace defied Audi's computer simulation Saturday and put Audi Sport North America's No. 1 Audi R10 TDI on the overall pole for Sunday's Mobil 1 presents the Grand Prix of Mosport.
Capello posted the fastest lap in Mosport's 46-year history, a sparkling time of 1:05.829 for his fourth LMP1 pole position of the season and first overall pole since the 2001 season. He edged out Penske Motorsports' Romain Dumas by 0.09 seconds in the No. 7 Porsche RS Spyder, the LMP2 pole-winner. Frank Biela was the former record-holder with a lap of 1:07.169.
"I was surprised how good the grip was in the first two runs," Capello said. "I didn't push so much these practices because I never got to try new tires. And during the first run I found the grip was very good. I made a good decision to come in and ask the engineers if I could swap the rear tires because I was having trouble in the really slow corners. Then when I went back out I tried hard and found I could push hard so I ran like hell and got a great lap."
Capello and Allan McNish will try to score their second Mosport win in a row and third of their careers. Capello will be going for his fourth career victory in Canada.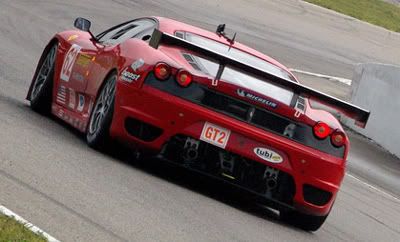 Photo copyright 2007 Van LaPointe
Jaime Melo captured his fourth GT2 pole of the season and seventh over the course of the past two seasons with a record-breaking run in the No. 62 Risi Competizione Ferrari F430 GT. Melo and Mika Salo are the class championship leaders with five victories this season and are making their first appearance at Mosport.
"I didn't expect to be as quick because we had some problems in the first practice," Melo said. "We had some oversteer, rear instability in the corners, and couldn't seem to fix it. We have a very good car for qualifying but it may not be the best car for the race. We don't have so much downforce and it becomes difficult to get the right line."
Melo's lap set a GT2 record at Mosport but as at every other Series venue, the GT2 cars will have to concentrate on faster GT1 cars and prototypes going past while
"The traffic will be difficult because of the speed of the prototypes," Salo said. "There's obviously the speed difference at all tracks, but here they will have much more down force so they'll be able to better carry their speed through the corners which we can't."
Last year's race saw Risi finish 1-2 for the first time in the Series, and the qualifying session hinted that it could happen again. Gianmaria Bruni was second at 1:18.339, a little less than a half second behind the sister car.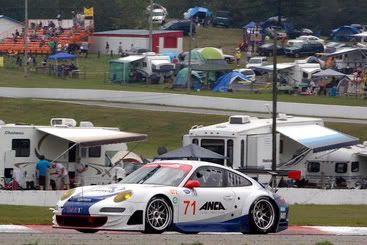 Ferraris held the top three positions as it looks to strengthen its hold on the class manufacturer championship. Dirk Muller was third at 1:18.432 for Petersen Motorsports/White Lightning Racing, 0.62 seconds ahead of Tafel Racing's Porsche 911 GT3 RSR.
The next round of the American Le Mans Series is the Mobil 1 presents Grand Prix of Mosport from Mosport International Raceway in Bowmanville, Ontario, Canada. The race will start at 3 p.m. ET on Sunday, August 26 and will be broadcast live on SPEED. American Le Mans Radio and IMSA's Live Timing and Scoring will be available at americanlemans.com.
News used with permission from the American LeMans Series, photos courtesy of slot brother Van LaPointe.
Porsche
Audi
Mosport
LeMans